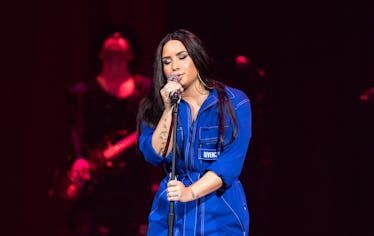 These Superstar Performers Are Going To The March For Our Lives
Christopher Polk/Getty Images Entertainment/Getty Images
On Saturday, March 24, hundred of thousands of protesters are expected to attend the March For Our Lives in Washington D.C., the second large-scale demonstration against gun violence held during the month. Citizens won't be the only ones at the event, though. Joining the protesters will be a handful of musical stars who'll be performing at the March For Our Lives.
Those musical guests include the rappers Common and Vic Mensa, plus singers Demi Lovato, Jennifer Hudson, and Ariana Grande, according to the March For Our Lives' webpage.
The March For Our Lives has been organized by the Never Again movement — which was created by a group of students who survived the Feb. 14 shooting at Marjory Stoneman Douglas High School in Parkland, Florida — and Everytown For Gun Safety, a pro-gun control organization headed by former New York City mayor Michael Bloomberg.
During an interview with CNN on March 14, Stoneman Douglas student David Hogg mentioned another singer who will be at the March For Our Lives, alongside Hudson, Grande, and Lovato.
"We're gonna have four major independent women that are standing with us and walking beside us, and those are Ariana Grande, Jennifer Hudson, Miley Cyrus and Demi Lovato," Hogg said. "They're gonna be standing there with us and marching with us and they're some of the few people that are really coming out and stepping up with us."
It's unclear whether Miley Cyrus will be performing at the event, and she is not one of the artists listed on the "performers" page of the March For Our Lives website.
In the days leading up to the march, though, Cyrus has posted supportive messages for Stoneman Douglas High.
"Please support the powerful message of change, unity and healing from student survivors of the #StonemanDouglas shooting," she tweeted on Friday, March 16. "Listen to their song ... be a part of the movement to help end gun violence!"
The next day, Jennifer Hudson posted a similar message, while announcing that she'd be performing at the march.
"Honored to perform at #MarchForOurLives in DC Mar 24 to show my support for students across the country as they take action to end gun violence," Hudson tweeted on Saturday, March 17.
The March For Our Lives is expected to draw attendance from over 500,000 protesters at its main event in Washington D.C. alone, according to The Washington Post. In addition, the march's website says over 800 affiliated marches will be held internationally, a format that mirrors the Women's March on Washington.
The movement has not only drawn support from musical artists, but high profile actors as well, including George Clooney and his wife, human rights lawyer Amal Clooney.
"Amal and I are so inspired by the courage and eloquence of these young men and women from Stoneman Douglas High School," Clooney said in a statement on Feb. 20, per ABC News. "Our family will be there on March 24 to stand side by side with this incredible generation of young people from all over the country, and in the name of our children Ella and Alexander, we're donating 500,000 dollars to help pay for this groundbreaking event. Our children's lives depend on it."
After the Clooneys announced their financial support of the march, Oprah Winfrey announced she would match their donation.
"George and Amal, I couldn't agree with you more," Winfrey tweeted on Feb. 20. "I am joining forces with you and will match your $500,000 donation to 'March For Our Lives.' These inspiring young people remind me of the Freedom Riders of the 60s who also said we've had ENOUGH and our voices will be heard."
The Clooneys, Oprah, Miley Cyrus are just some of the celebrities who have voiced support for the March For Our Lives, including the star-studded cast of musical artists that will be performing at the protest, joining the hundreds of thousands protesting gun violence.