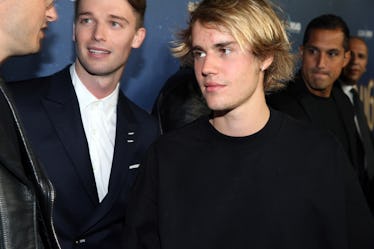 Justin Bieber Skipped The Billboard Music Awards & Here's Why It Shouldn't Surprise You
Phillip Faraone/Getty Images Entertainment/Getty Images
Those among you who are anxiously waiting for Justin Bieber's next public appearance will need to wait just a bit longer. Despite the fact that he's up for eight awards at the 2018 Billboard Music Awards, which will air on Sunday, May 20, he reportedly has another accomplishment to complete before he plans to attend award shows. So is Justin Bieber at the 2018 Billboard Music Awards? It's not looking that way.
The Biebs is reportedly hard at work on his new album, according to The Sun, which is likely to showcase his rekindled relationship with his faith. Bieber's would-be fifth studio album is reportedly going to feature "Christian-appropriate" songs, and his relationship with the Hillsong Church, an Australian evangelical congregation with branches worldwide. TMZ reported in January that Bieber would not be attending any awards shows until said album was complete, and so far there's been no indication to the contrary. Bieber skipped the Grammys in January and the Latin Billboard Awards in April.
Disappointing, right?
It's particularly disappointing because the Bieber-assisted remix of "Despacito" by Luis Fonsi and Daddy Yankee dominated the charts this past year. It spent 41 weeks at No. 1 on Billboard's "Hot Latin Songs" charts, and was named the longest-running hit of the decade by Forbes. The song also smashed the competition in every category at the Latin Billboard Awards in April: Hot Latin Song of the year; Hot Latin Song of the Year, Vocal Event; Airplay Song of the Year; Digital Song of the Year; Streaming Song of the Year; and Latin Pop Song of the Year.
It was undoubtedly a huge moment for Latin popular music — and one that was bumped by Bieber's name recognition — but Bieber wasn't there to celebrate it. Pity. Fonsi said backstage after winning Song of the Year at the Latin Billboard Awards that he was thrilled about the attention the song has gotten. "We're really happy that the song has really broken all kinds of barriers and that everybody's enjoying it," Fonsi said. "It doesn't matter where you're from, it doesn't matter what language you speak."
At the 2018 Billboards, "Despacito" is also up for a number of awards, as is Bieber's other hit feature from the past year, "I'm the One" with DJ Khaled, Quavo, Chance The Rapper, and Lil Wayne.
Bieber reportedly skipped the Grammys two years ago because he didn't think it was representative of the music fans really liked. Then he declined to perform with Fonsi and Daddy Yankee at the 2018 Grammys, TMZ reported, because he was wrapped up in production on his new album. So, what has Bieber been up to that he can't pop in to scoop up some awards?
If his social media is any indication, he's been doing some soul-searching. On Easter, he posted a screenshot of an iPhone note explaining how his relationship with religion has strengthened him as a person, and that "Easter is not about a bunny." (He also posted three selfies of him wearing bunny-glasses.)
To the upset of many of his fans, he also cancelled the tail-end of his world tour last year due to needing to "rest." He played 150 concerts across 40 countries during the world tour, canceling the final 14, per TMZ.
"I've learned the more you appreciate your calling the more you want to protect your calling," Bieber wrote in an Instagram post of the tour's cancellation. "Me taking this time right now is me saying I want to be SUSTAINABLE... so that I can be the man I want to be, the husband I eventually want to be, and the father I want to be."
His fourth studio album, Purpose, which came out in November 2015 touched a little bit on his faith in the album's title track, which is a direct reference to his relationship with God. "I put my heart into your hands / Here's my soul to keep," he sings in the emotional ballad. "And you've blessed me with the best gift / That I've ever known / You give me purpose / Yeah, you've given me purpose."
If it has half as many bangers as his previous album, I don't much care what he writes about for this upcoming album. You do you, Biebs. Take all the time you need. We'll be waiting.