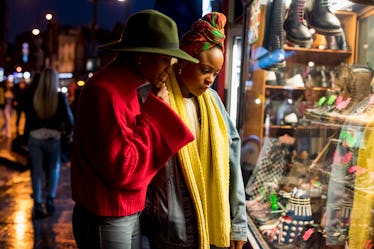 Here's What It Means If You Spend Every Night With Your Partner, But Don't Live Together
From waking up with your feet all piled together, to brushing your teeth at the same sink and playfully knocking elbows, there's a lot of gooey sweet stuff about spending the night with your boo — outside of having sex (which can be gooey and sweet too). When you're in love, in lust, or in like, and you live in the same area, it's common to want to spend as much time as possible together. But is it normal to spend every night together but not live together?
A running joke in my family is, "What is normal?" It's true: When it comes to dating, especially dating in 2018, all bets are off. No one knows what feels right in your relationship besides you and your partner. There isn't a specific timeline of when to first drop the big L word or when to move in together. Perhaps then, the questions become: Is it healthy to spend every night together? Am I enjoying not living together? Are we together every night because we want to or because we feel we can't be apart? (This could open up the question of "Well, what is healthy?" but we'll leave that to Liberal Arts kids wearing beanies that don't cover their ears.)
I spoke with Dr. Gary Brown, a prominent dating and relationship expert, about company versus codependency, and spending every night together when you and bae still have your own places.