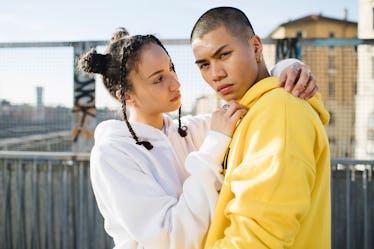 5 Signs You're Spending Too Much Time With Your Partner & You Might Need A Break
It's definitely possible to have too much of a good thing — Prosecco, pizza, that new Cardi B jam, and bae included. Particularly when you're embarking on a new relationship, you might not be able to get enough of each other, so it's only natural to find yourself hanging with your partner a ton. But how do you know if you're spending too much time together?
Of course, quality time is important for ensuring that a relationship grows. Sharing experiences can give you common memories, and therefore, a stronger bond, after all. Moreover, gaining a deeper understanding of each other's desires, fears, pet peeves, habits, and other quirks can help you to become a better partner in the long run. So it's no surprise that couples feel nearly twice as happy when they are together as opposed to when they're apart, according to 2015 research published in the Journal of Marriage and Family. Additionally, couples reported that their activities hold more meaning when they're with their SO. But before you start clearing your schedule for bae, consider this: Having adequate space is even more important to a couple's happiness than having a good sex life, according to a study called The Early Years of Marriage Project.
There are also red flags that you're spending too much time with your SO that are somewhat more obvious. Examples include feeling as if you have nothing to talk about, or like you don't know what to do with yourself when you're apart. But what about the subtler signs? If you notice any of following beginning to develop in your relationship, you may need to ask for some breathing room from your partner.