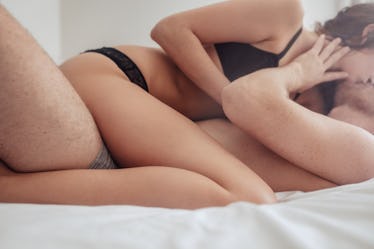 If One Partner Always Initiates Sex, Experts Say It's Time To Switch It Up
In your relationship, who is the one to typically initiate sex? Whether or not you take turns making the first move, or one of you is the de facto adult fun-times initiator, you might wonder: Is it normal if one partner always initiates sex? And, if that's the case, what does that say about your relationship? The reality is that every relationship is different, and no matter who initiates sex the most, there is no "wrong" way to go about it. It really just depends on how everyone feels about the arrangement. The trick is to have open and healthy communication around the subject of sex (Shocking! I know), and that, unfortunately, is where things can start getting a little tricky. It's not always easy to speak up and be vulnerable if you are frequently the initiator and possibly starting to feel rejected. Conversely, if your partner takes the lead in that department, you may not even realize how they are really feeling about things.
To help get to the bottom of this all-too-common dynamic, Elite Daily turned to the experts: Kelley Kitley, psychotherapist and licensed clinical social worker, and Kayla Lords, a writer and sexpert for Jack and Jill Adult, who shared their takes on if one partner initiating more — or even all the time — is normal, and, if not, what to do about it. Here is what they had to say.