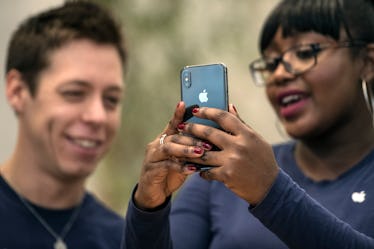 People Are Comparing Instagram's Focus Mode To A Popular iPhone Feature
Carl Court/Getty Images News/Getty Images
There's no doubt that your selfie game is better than ever now, thanks to Instagram's Focus mode and iPhone's Portrait Mode function. Both features have similar and notable qualities that can make you look (and feel) like a million bucks, thanks to the crisp auto-focus and blurred background provided while taking a selfie. If you recently purchased an iPhone model from the past year (like the 8, 8 Plus, or X), and use Instagram app, you're probably wondering if Instagram's Focus feature is better than iPhone's Portrait Mode. The short answer is no, probably not, and here's why.
While both cameras let you live your best photo-taking life, their professional photography functions are different (even if they appear to be quite similar). So what makes the iPhone's camera better than Instagram's Focus mode? Simply put: The recent models of the iPhone have a high-quality built-in camera. Instagram's Focus mode is an in-app feature that you install while making the latest updates to your phone. Make sense? Essentially, anyone with a compatible smartphone (iPhone SE, 6S, 6S+, 7, 7+, 8, 8+, and X, and select Android devices) can download and take advantage of Instagram's Focus mode, but that has no impact on the overall quality of your smartphone's camera. (Although, that would be sweet if it did.)
If you've got an iPhone 8, 8 Plus, or X, you already know how legit the camera settings are — especially with the recent incorporation of TrueDepth Camera on the iPhone X that let's you use the Portrait Mode function for selfies. I mean, really, I have never looked so good. (Thanks, Apple!)
But for those of us who are still rocking the older models, here's the scoop on one of the best smartphone cameras on the market. The iPhone X has a 12-megapixel rear-facing camera and a 7-megapixel front-facing camera, which makes Face ID possible. Pretty quality stuff. Combine that with the built-in Portrait Mode function and you have yourself one helluva professional looking photo. Snap a pic of yourself and check out how the camera hones in on your face and outlines it with a perfectly smooth blurred background. Impressive, right? While your selfie might look almost identical to the one you just snapped using Instagram Focus, the quality and depth likely isn't as good depending on the model of your phone. But hey, it's still not bad, right?
Oh, did I mentioned the iPhone X also includes fancy portrait lighting settings? You can choose from Natural Light, Studio Light, Contour Light, Stage Light, and Stage Mono Light to give yourself that extra artsy touch to your pics that Instagram Focus does not offer.
To the naked eye (and many selfie-takers around the world wide web), it seems like Instagram's Focus feature and the iPhone's Portrait Mode are virtually interchangeable camera tools. Try it out for yourself. When you're in the Instagram app, open the camera and click the "Focus" setting right between the "Boomerang" and "Superzoom" options. Make sure your face is in focus and watch the background melt away. And just like the iPhone X, Instagram's Focus feature works on the front and rear cameras. Pretty similar looking photos, right? While they do look alike, there's no denying that the iPhone's recent camera upgrades are the real deal when it comes to the ultimate selfie.
Of course, old habits die hard — so you can always use the iPhone's camera and upload your pics straight to Instagram, just as you've always done. Or, ditch the camera feature all together in favor of Instagram's Focus mode if you don't have a recent iPhones. The ball is in your court. I'm just here to help you get the most out of your selfie.