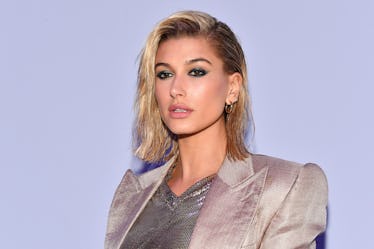 Hailey Baldwin Is Rumored To Be Dating This Singer & We're Here For It
Dia Dipasupil/Getty Images Entertainment/Getty Images
You know her. You love her. She's one of the famous social supermodels taking over our generation. Hailey Baldwin is taking over our news feeds and the fashion runway one pointy boot at a time. We know a lot about her friends and their love lives (Bella, Gigi, Kendall, etc. etc. etc.), but fans are wondering, is Hailey Baldwin single? And if not, who the frick is she dating? For those of you who don't know, I'm about to rock your world.
As recently as Jan. 3, 2018, fans thought it was highly possible Hailey Baldwin was not only dating singer Shawn Mendes, but might even actually be engaged to him.
Mind. Blown.
Just a few days after the New Year, Baldwin was spotted sporting a sparkly ring on her finger at the beach in Miami. The shiny band showed up after weeks of rumors about her and the "Stitches" singer made their way to the mainstream media. Teen Vogue reports they even spent holidays together in Mendes' hometown, Toronto, where they strolled through a Christmas market. Reports also suggest Baldwin met his family during this trip, which would be... Ohhh, I don't know... A REALLY BIG DEAL?
A source told E! News,
It started out casual as they would run into each other at parties and hangout, but most recently it's become more serious. They are definitely dating and spend a lot of time together.
According to the insider, the two "don't care" if the public knows they're together these days. They added,
A few months ago they were sneaking out of public venues like Delilah while trying to not make a scene and now they have gone on private vacations to Europe. Their relationship has grown and they don't care if anyone sees them now.
According to reports, the relationship rumors popped up after the 2017 MTV EMAs, when they were spotted hanging out at an after party. Later, Baldwin swung by one of Mendes' concerts in Brooklyn.
Another source told E! News,
Hailey is not one to make things a huge deal, but Shawn worships her. He is definitely considerate of her busy schedule and her feelings. They are really cute together.
The source added Mendes is very supportive of Baldwin. I mean, let's be real. He so would be. Mendes definitely comes across as the doting, loving type, and Baldwin seems a little more badass and like she probably calls all the shots in her relationships.
JUST AN OUTSIDE OPINION FROM AN INVESTED BYSTANDER.
When we're talking about stars this big, it's easy to forget how young they actually are. At 19, Mendes can't even legally drink. In fact, Baldwin is three years his senior and just old enough to buy a Mike's Hard Lemonade if she wanted one.
Though Mendes technically can't "party" in the states, we're sure they throw one hell of a get-together.
Pictures did recently surface in February showing Mendes hanging out at a pizza joint with Camila Cabello, which initially sent fans into a tailspin. But, upon further inspection, it looked innocent enough.
For one thing, there's a strange older man just, like, hanging out with them, and also, the two have an ongoing friendship after their collaboration on the song "I Know What You Did Last Summer." They also reportedly showed up to the same pre-Grammy party separately that night.
Relax, everyone. Sometimes a slice of pizza is just a slice of pizza. Plus, Cabello's busy with her own love life drama, which leaves Mendes wide open for a relationship with Baldwin.
All roads lead back to these two, OK? I SAID, OK?!?! It's important to note neither party has confirmed the relationship, but fans are still here for it and hope they make things official soon!
Check out the entire Gen Why series and other videos on Facebook and the Bustle app across Apple TV, Roku, and Amazon Fire TV.