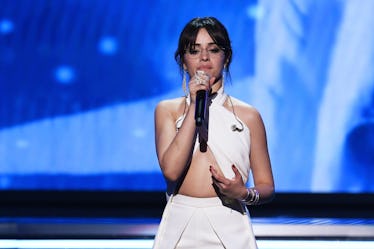 Camila Cabello Reportedly Has A New BF & He Has A Very Unique Job
Kevin Winter/Getty Images Entertainment/Getty Images
Being a celebrity is a weird thing. First of all, whatever you do is newsworthy. Second, you meet some pretty interesting people. Third, your love life is suddenly millions of people's business. This is totally the case for singer Camila Cabello. The brunette artist was recently photographed on a beach in Mexico with a new man and it has fans wondering... who is Matthew Hussey? Oh, just Cabello's possible new boyfriend and also a dating expert. COME ON. You can't make this up. Elite Daily reached out to Cabello's team for comment but did not hear back by the time of publication.
Hussey and Cabello were spotted hanging out, cuddling up, and smooching on a rocky beach in Cabo in February of 2018. Judging by the photos obtained by E! News, the two are super comfortable with one another... almost as if this romance has been going on for some time! Cabello looked easy-breezy in a floppy hat and flowing cover-up, and Hussey was chilling in some shorts and a T-shirt. According to an eyewitness, the two showed up just a little bit before sunset and hung out for almost an hour.
The spectator also said there was no effort to hide their feelings for one another. They said, "Lots of PDA and smiles." That much is clear from some of the photos.
Another insider revealed to E! News that Cabello has actually been following Hussey's work for some time. The source claimed,
Camila recently started dating Matthew. It wasn't something she expected, but she knew of him and really enjoys his work... She has been following him for a while and was a fan, but it took her by surprise that she has gotten to know him on a deeper level.
If you're like some of Cabello's die-hards, this news might come as a shock. Apparently, there was a brief rumor going around that she and Shawn Mendes were "a thing" after their collaboration on the song "I Know What You Did Last Summer" a few years ago. But, that ship has finally sailed. Plus, it looks like Cabello might have a thing for older guys.
Hussey is ten years her senior, and I just feel like it's worth noting he has a British accent. CALL ME BASIC, GO AHEAD! He's a professional dating expert, whatever that means, and a columnist for Cosmopolitan magazine and expert for ABC's digital series What To Text Him Back. His original thing used to be coaching men (which I feel like is a nice narrative plot twist) on their romantic lives. His website notes:
He has rooted his business in private coaching work, which has often focused on confidence issues that impacted relationships. As a result, he began to gain recognition helping men with their love lives. For two years, this became a major focus of his work, and he conducted several hundred seminars for large groups of men on this subject, as well as coaching many more men on a one-to-one basis.
TBH, Hussey comes across pretty motivational speaker-y. In his website's opening video, Hussey explains that "the key to having a great love life is to having a great life in the first place... is to build a lifestyle people want to be a part of, and to be a person people want to know."
Geez, no pressure.
He promises that by working with him...
You're going to learn how to build a network of people that are your dream network, your dream team, people you've always wanted to know. How to get invited to the best parties, the best gatherings. How to create a social life that people look at and say 'Wow. That is a dream. I want to be a part of that.'
Feels a little... inauthentic? Too good to be true? Like a scam?
I agree, but it's not about what I think. It's about what Camila thinks.
For now, these two seem to have nothing but smooth seas and blue skies. It's unclear when they first met, but you better believe fans are following their journey now.
Check out the entire Gen Why series and other videos on Facebook and the Bustle app across Apple TV, Roku, and Amazon Fire TV.