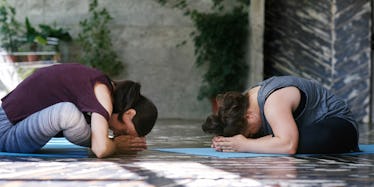 5 Workouts To Do On Your Mental Health Day That'll Restore Your Mind And Body
You don't need me to tell you how important it is to take care of your body through regular workouts. However, with busy schedules and extensive to-do lists, it's easy to fall into the trap of prioritizing only your physical health and placing mental health on the back-burner. Having said that, it's so, so important to find a balance between these two, and to make time for strengthening both. Yes, working out is obviously good for your physical health, but is exercise good for your mind, too?
Studies show that regular exercise improves your overall mental health and self-image. Working out and moving your body in ways you love can help to reduce the intensity of anxiety and depression, and it can even improve your cognitive abilities.
The first full week of October marks Mental Illness Awareness Week, which focuses on the reality of understanding how mental illness feels and informing people about the very common symptoms that anxiety, depression, and a myriad of other mental health conditions can bring.
According to its website, Mental Health America — a nonprofit, leading organization devoted to the cause — encourages you to have the same kind of check-ups you might get for your physical health for your mental well-being. This definitely means not shying away from allowing yourself to take the occasional mental health day.
Overall, informing yourself about mental health and learning how you can manage a mental illness through an active lifestyle and self-care is imperative to leading a healthy, balanced, and fulfilling life.
For now, if you're just looking to make the most of a mental health day, here are five workouts that are perfect for when your mind needs a little TLC and a lot of love.