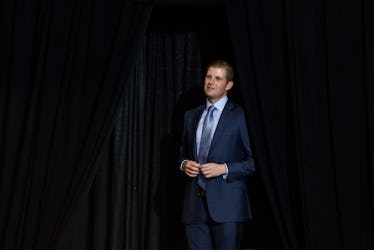 Eric Trump Doesn't Have The Best Track Record For Making His Dad's Speeches
Justin Merriman/Getty Images News/Getty Images
Leading up to President Donald Trump's first State of the Union address, everyone wanted to know who was going to show up. There was already word that some politicians wouldn't be attending in protest, but there was still those in the Trump clan to contend with. While we could be reasonably sure that certain members of the family — like First Lady Melania Trump and the president's daughter, Ivanka Trump — would be there, the Trump sons are more of a wild card. So, is Eric Trump at the 2018 State of the Union? It looks like yes.
On Jan. 29, White House Press Secretary Sarah Huckabee Sanders said that all of the president's children — except his youngest, Barron — would be attending the State of the Union speech on Jan. 30. Eric Trump and his older brother, Donald Jr., will reportedly be coming into Washington D.C. for the event. Sanders said, "All of the president's children, along with the first lady, will be at the State of the Union, with the exclusion of Barron. I don't believe he will be attending as of right now."
It'll be a switch up from the last major speech the president delivered.
Last year, when President Trump gave his joint session to Congress on Feb. 28, 2017, Trump was a no-show. He did send a tweet of himself watching it on television and wishing his dad luck.
From some light Twitter stalking, it seems that the reason Trump didn't make it to his father's first speech to Congress might have been because he was handling the family business out in Vancouver. Can't be certain, but you'll notice the date and time on the below tweet — just four hours before his father's speech.
Eric Trump is not the most politically active of the president's children, but that doesn't mean he's not involved at all.
Recently, Trump decided to get involved in the president's latest mishap. After President Trump reportedly referred to Haiti and African countries as "sh*tholes," during a White House meeting, comments which everyone called him out on for their racist tones, the president tried to defend himself by tweeting that "sh*thole countries" was not the language he used. But that didn't really help at all (surprise). So, enter Eric Trump, the son in shining armor who is going to fix it all.
Spoiler alert: he didn't.
In an attempt to help out daddy, Trump went on Fox & Friends on Jan. 17. and said there is no way that his father can be a racist. Why? Trump said,
My father sees one color, green. That's all he cares about. He cares about the economy. He does not see race. He's the least racist person I have ever met in my entire life. It's total nonsense.
What? It sounds like Trump is insinuating that his father can't be racist because he hasn't got the time, with all the money he needs to lay on the bed and roll around in. Money takes up all his time, so there's no possible way that he could even think about thinking about being a racist? Or does Trump think his father is colorblind and therefore only has endless amounts of time to focus on the one color he can see and no other color ever comes into play?
Of course Twitter was just as confused.
At least he tried right?
Eric Trump is really the only one of Trump's adult children who doesn't seem to be part of the political fold.
Ivanka Trump is basically her father's right-hand woman, serving as adviser to the president, with a West Wing office and a steady presence in the White House. However, her brothers aren't quite as involved. (Younger sister Tiffany, who is 24, is still in law school.) Technically, Trump and his older brother, Donald Trump Jr., are both supposed to be separate from the White House and in charge of running the Trump business. However, Donald Trump Jr. was deeply involved in his father's campaign, and has acknowledged meeting with a Russian lawyer who promised dirt on President Trump's then-opponent, Hillary Clinton.
Back in December 2017, Trump Jr. was questioned by Rep. Adam Schiff, the top Democrat on the U.S. House of Representatives Intelligence Committee that is charged with investigating the allegations regarding Russian collusion. According to Time, Trump Jr. declined to answer questions regarding a Russia-related conversation he had with the president, citing attorney-client privilege because a lawyer was in the room when it took place. So regardless of how involved Trump Jr. is in the White House, presently, he's obviously pretty deep into it at least on the surface.
Eric Trump is really the only child whose main focus appears to be on running the business and doesn't have much of a place in the White House. But it looks like he'll be around to support his dad — today, at least.