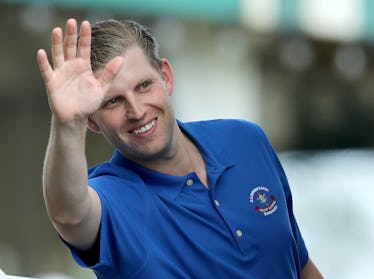 Eric Trump Defended His Dad Against Accusations Of Racism & It's So Cringeworthy
Elsa/Getty Images Sport/Getty Images
It can't be an easy task being Donald Trump's son, especially right now. Following Jan. 11, when President Trump reportedly referred to Haiti and African countries as "sh*thole countries" during a White House meeting, the current president has been under fire from media outlets and politicians alike blasting his comments as racist. So, in an effort to to smooth things over, Eric Trump attempted to defend his dad against these racism accusations. However, just like father like son, it appears that the younger Trump also has a problem with sticking his foot in his mouth.
Eric Trump appeared on FOX news channel's Fox & Friends on Jan. 17, less than a week after his dad's reported comments, to address allegations that his father is a racist. However, Eric Trump's defense of his father is just as clunky and awkward as Donald Trump's rebuttal on Twitter, when the president said that "sh*thole countries" is not the language he used.
So how did little Trump defend dear ol' daddy? In the most absurd way ever. During Fox & Friends, Eric Trump claimed it's impossible that his father is racist because the only color he sees is "green." OK.
He said,
My father sees one color, green. That's all he cares about. He cares about the economy. He does not see race. He's the least racist person I have ever met in my entire life. It's total nonsense.
As if talking about race amid a couch full of white people wasn't ironic enough, implying your dad cares more about money than the opportunities for people of color isn't likely to score him popularity points, Eric.
Young Trump went on to address the allegations by pointing out the current state of unemployment among African-Americans and claiming Democrats are behind this attack on his father because they "don't have their own message." He said,
At the same time they're saying that, they'll never report that African American unemployment is the lowest it's ever been, the lowest it's ever been in this country. They won't give him any credit for that and by the way he campaigned on that. But then they'll go out and call him racist. It's very sad. It's a race to the bottom. They stoop very very low and the reason they do that is because they don't have their own message. What is the message on the Democratic side right now? Who are the front runners? What do they stand for? They don't stand for anything.
An NPR fact check found that while unemployment rates have recently hit a low, it's a reach for Trump to claim he's the reason behind these numbers, as the unemployment rate for African-Americans has been falling fairly steadily since 2010.
As if this interview wasn't already all over the place, Eric Trump went on to state that if his father would "solve cancer tomorrow [Democrats] would criticize him for it."
Please, someone make this stop.
Following the aired interview, Twitter had some strong feelings about what Eric Trump had to say in regards to his father's racism allegations.
Trump's reported "sh*thole countries" comment has sparked immense backlash.
On Jan. 11, Trump reportedly referred to Haiti and African nations as "sh*thole countries" during a meeting on immigration, and implied that he preferred immigrants from countries such as Norway instead. Trump later denied using the word and said that he wanted immigrants from "everywhere."
U.N. Human Rights spokesperson Rupert Colville addressed Trump's reported comments by delivering a powerful speech at a news conference in Geneva, Switzerland on Jan. 12, in which he said "there's no other word one can use but racist."
American journalist Anderson Cooper also discussed Trump's reported reference to Haiti as a "sh*thole country" on Jan. 11 during his news segment Anderson Cooper 360, by relaying his personal experience visiting Haiti after their devastating 2010 earthquake.
"Let me be clear, the people of Haiti have been through more, withstood more, fought back against more injustice than our president ever has," Cooper stated during his news segment.
For the record Eric Trump, that's how you deliver an argument. Take notes.