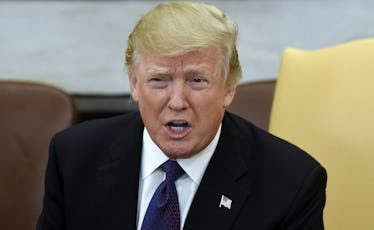 Donald Trump Is Trying To Roll Back His Immigration Comments, & It's Pretty Ironic
Pool/Getty Images News/Getty Images
At this point, you never really know what to expect from the president in relation to his ideas on immigration. Whether he's in a press conference or on Twitter, his comments on the topic often seem to fluctuate by the day. And the most recent in this pattern are Donald Trump's latest immigration comments, which are, if I'm being honest, really ironic.
On Jan. 16, during a White House meeting with Kazakhstan President Nursultan Nazarbayev, Trump said he wants immigrants to come in "from everywhere," according to Politico. "I want them to come in from everywhere, everywhere," he said, in response to a reporter's question about if he wanted more immigrants from Norway.
Trump was responding to comments he made during a meeting on Jan. 11 to discuss a deal on immigration and Deferred Action for Childhood Arrivals (DACA), an Obama-era program that gives temporary amnesty to around 800,000 young undocumented immigrants who arrived in the United States as children. At the meeting, Trump reportedly called Haiti and African countries "sh*tholes" after finding out the deal would include protections of people from those countries. Trump reportedly asked, "Why do we want people from Haiti here?" Then he reportedly suggested that he preferred immigrants from places like Norway. Trump has since denied using the word "sh*tholes," saying via Twitter that "the language used by me at the DACA meeting was tough, but this was not the language used."
But whatever the word choice, his latest comment is pretty ironic.
Despite saying that he wants immigrants "from everywhere," his previous statements on immigration don't really match up.
The Trump administration has been fighting for the past year to ban immigrants and travelers from certain countries. In January of 2017, he tried to implement a travel ban against people coming from largely Muslim countries such as Iran, Iraq, Libya, Syria, Yemen, and Somalia. The ban, which went through multiple versions, has faced numerous legal challenges and has been blocked several times. As of January 2018 the ban has been allowed to go into effect while the legal battles continue.
And during his presidential campaign, Trump also said there were certain types of immigrants he didn't want to see. On Dec. 7, 2015, Trump called for "a total and complete shutdown of Muslims entering the United States," seemingly arguing that any Muslim could potentially be a threat to American citizens.
Trump has also been very vocal about his thoughts on Mexican immigrants. During his presidential announcement speech on June 16, 2015, he said that Mexico allegedly sends people with "lots of problems" into the United States. "They're sending people that have lots of problems, and they're bringing those problems with us," he said. "They're bringing drugs. They're bringing crime. They're rapists. And some, I assume, are good people."
Yikes.
In the last few days, Trump's gone full on Twitter Fingers to clear up his reported "sh*thole" comments.
After Trump's reported comments surfaced online, he took to his Twitter to insist that he hadn't used any derogatory words to describe Haiti and African countries. He wrote on Jan. 12,
The language used by me at the DACA meeting was tough, but this was not the language used. What was really tough was the outlandish proposal made – a big setback for DACA.
And then the same day, he added,
Never said anything derogatory about Haitians other than Haiti is, obviously, a very poor and troubled country. Never said "take them out." Made up by Dems. I have a wonderful relationship with Haitians. Probably should record future meetings - unfortunately, no trust!
But Sen. Dick Durbin, the only Democrat present during the White House meeting, declared that Trump did, in fact, make said comment. "He said these hate-filled things and he said them repeatedly," Durbin said on Jan. 12, according to The Hill.
Others present, however, have supported the president. On Jan. 12, Republicans Sen. David Perdue and Sen. Tom Cotton, both of whom attended the meeting, released a joint statement saying they "do not recall the president saying these comments specifically."
And it's really just been a game of who-said-what since.
So, who knows if we'll actually ever get a definitive answer of the actual words Trump uttered during that White House conversation, but perhaps he actually meant the ones he said today.