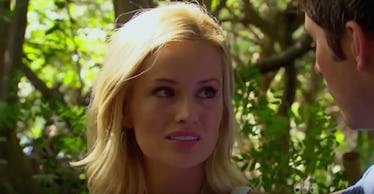 Emily Maynard Opens Up About Whether She'll Watch Ex Arie On 'The Bachelor'
ABC
We honestly have no idea if we would have the guts to watch our ex look for love in front of all of America, though we have never been on a reality show or held the title of The Bachelorette. But Emily Maynard Johnson has. The former Bachelor winner went on to star on the show back in 2012, narrowing down her suitors to Jef Holm and Arie Luyendyk, Jr. Here's a 5-years-later spoiler alert! She chose Jef. Cut to 2017 and now it's Arie's turn to hand out the roses. Is Emily Maynard watching The Bachelor this season? She recently weighed in on if she'll be tuning in to see Arie in action.
"I've been rooting for Arie to be the Bachelor since my season ended — he's a great guy," Emily told PEOPLE. She also revealed that although it will be "great TV," Season 22 of dating competition series will not be "TV that is watched in my house." We get it. The Arie ship has long since sailed. Emily's moved on from her Bachelor days alongside the so-called "Kissing Bandit" — the 31-year-old is now married to hubby Tyler Johnson. And in case you're wondering, the couple did not meet on a reality TV show.
In fact, Emily was introduced to her now-husband far away from the cocktail parties and flashing lights of the famed Bachelor Mansion. The pair knew one another from church back in North Carolina and were married in 2014. "I think that's why our relationship is so good now, because we started out as friends," she told Us Weekly that same year.
Since tying the knot, Emily and Tyler have welcomed three children together — Jennings Tyler, 2, Gibson Kyle, 15 months, and Gatlin Avery, just 7 weeks. You may recall that Emily was already mom to daughter Ricki when she first stepped into the Bachelor scene on Brad Womack's season. Ricki's father and Emily's former fiancé, Ricky Hendrick, tragically died in a plane crash.
Maynard went on to compete on Season 15 of The Bachelor, which ended in a proposal from Brad Womack. Unfortunately, they broke up shortly after the cameras stopped rolling. The fan fave went on to take on the Bachelorette role in 2012. It was there where she and Jef Holm got engaged in the season's finale, after she tearfully sent Arie packing in paradise. "I'm shocked... I completely thought we had something," he told her shortly before his abrupt exit. Aw, memories.
Of course, the southern sweetheart has nothing but kind words to say about Arie now that he's about to step into the spotlight. She told PEOPLE following ABC's reveal,
I have been wanting Arie to be The Bachelor since my season ended forever ago, and I know he's going to be great! He's so much fun to be around and comes from the nicest family, so the girls on his season really lucked out with him! Arie deserves nothing but the best, and I hope everything goes wonderfully for him!
And even though she and Arie have journeyed in different directions, Arie obviously thinks highly of his former flame and his experience with her led him to where he is today. "It's been tough. I think that since the show I really haven't felt that same feeling I had when I was on The Bachelorette. That's what really drove me to do this, because I knew that I could find love," he admitted to Entertainment Tonight. Hmm. We wonder what his other exes think about that...
But are Emily and Arie still in touch? "If she calls, I'll answer," Arie said, when asked if Maynard has offered up advice on his latest gig. "No, I haven't talked to her. We sort of went our separate ways after the show and that's fine. She has a beautiful life."
Well, Emily's rooting for you, Arie! Even if she won't actually be watching.