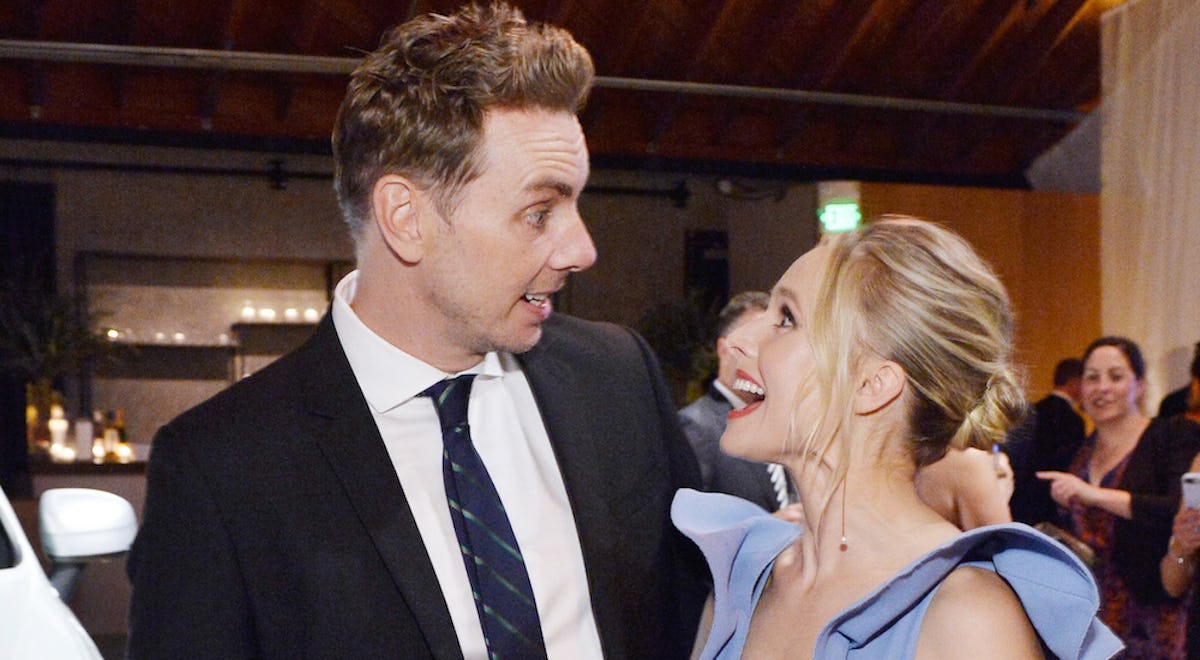 Dax Shepard Didn't Walk The SAG Awards Red Carpet With Kristen Bell & Fans Have Questions
Stefanie Keenan/Getty Images
We all know that Kristen Bell and Dax Shepard are America's favorite celebrity couple, so everyone was pretty excited for more hilarity and cuteness from them when it was announced that Bell would serve as the host at the 2018 Screen Actors Guild Awards this year. But fans were thrown for a loop when Kristen Bell showed up alone... and her husband Dax Shepard was nowhere in sight. So, where was Shepard? Dax Shepard's absence at the Kristen Bell-hosted SAG Awards had many viewers scratching their heads... until we finally got a glimpse of the couple together later in the show, that is!
Sadly, neither Kristen Bell nor Dax Shepard were nominated for any awards at the SAG honors this year, which I honestly consider a travesty given how insanely great Kristen Bell's NBC series The Good Place is (seriously, you guys need to be watching The Good Place), but fans were expecting the couple despite that because Bell was given the honor of being the first SAG Awards host ever. In the show's 24-year history, it has never had a host until this year, and Kristen Bell was definitely more than up for the inaugural task. But where was her hubby?
Viewers who tuned into the SAG Awards red carpet pre-show were quick to notice when Kristen Bell showed up for her hosting gig alone. She owned the red carpet in a deep pink, flower-embroidered gown.
Although Dax Shepard was nowhere to be seen, Kristen Bell actually did show up with another fan-favorite actor: David Harbour, A.K.A. Jim Hopper from Stranger Things. The two had a silly pose-off on the red carpet before the ceremony began.
As Kristen Bell kicked off her opening monologue, it was clear that SAG-AFTRA was making this a moment for the women. Actresses Allison Janney, Tracee Ellis-Ross, and Millie Bobby Brown opened the show alongside Bell, sharing their pre-acting dreams and celebrating their presence at the event on Sunday night.
At that point it seemed like we wouldn't be seeing Kristen Bell's husband that night, but later in the show, Dax Shepard did show up next to Kristen Bell in a jokey little intro for Greta Gerwig. Kristen Bell seemed like she was gushing about her hubby as she sat next to him during one of her between-awards bits, but right at the last minute she turned the other way to reveal that she was actually doling compliments out onto Lady Bird director Greta Gerwig.
Kristen Bell and Dax Shepard have been together for 11 years, and will be married for 5 years later this year. The couple actually got engaged in 2010, but waited until 2013 to tie the knot in solidarity with same-sex couples, who couldn't legally get married in California until 2013. They have two daughters: 4-year-old Lincoln Bell Shepard and 3-year-old Delta Bell Shepard.
Their relationship has received a massive amount of love from fans due to how open and funny they are with their interactions in public and online. Kristen Bell and Dax Shepard also work together onscreen very often, including the crowd-funded Veronica Mars movie, the 2010 rom-com When in Rome, and most recently on brash comedies The Boss and CHIPS.
Of course, it is always a treat when we get to see Kristen Bell and Dax Shepard out an about together, and Sunday night's SAG Awards was no exception. After Bell slayed her hosting duties on stage, and Shepard did a sufficiently hilarious job just sitting there next to her while she made jokes, I am sure that they capped the night off with a game of Settlers of Catan at home.