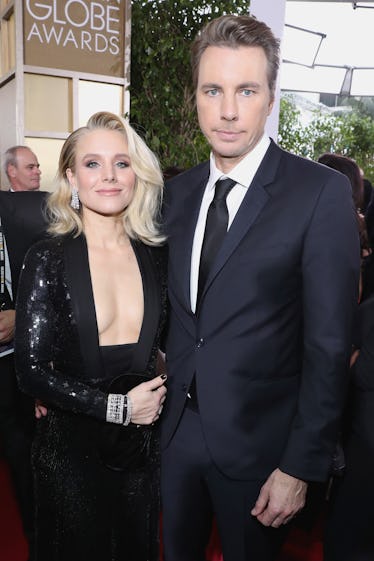 Kristen Bell & Dax Shepard Were A No-Show At The Golden Globes & Fans Are So Sad
Jonathan Leibson/Getty Images Entertainment/Getty Images
There are relationship goals, and then there are Kristen Bell and Dax Shepard, who are in their a league of their own. And it's not because they have the perfect marriage, it's because they a Hollywood couple that is so un-Hollywood, and the world basically marvels at their love. Also, Bell and Shepard know how to slay a red carpet, so there's always that. And now that the Golden Globes are here, the world was so ready to see the pair arm-in-arm, looking in love and classy AF, because that's just what they do. And guess what? Kristen Bell and Dax Shepard were not at the 2018 Golden Globes, and I couldn't feel any more disappointment in my heart.
We were hoping to see a goofy, happy Bell and Shepard walking arm-in-arm, maybe even wearing all-black in solidarity to support the Time's Up movement... but nope. It was not meant to be.
Maybe we were so excited to see them this year because we KNEW they'd absolutely crush the red carpet. I mean, last year their looks were worthy of awards themselves. Dax Shepard was looking dapper as all hell, but the real show-stealer was obviously Kristen Bell. Dressed in a black-sequined Jenny Packham gown with some tasteful skin showing and a killer blowout, Bell looked like a damn dream:
And in case you were wondering what she looked like before she got all glammed up, well, guess what? Still f*cking flawless:
How do you do it, Kristen? HOW? Tell us your secrets.
If you think that the 2017 Golden Globes was the highlight of their night, boy, you couldn't be more wrong. When interviewed on the red carpet about their post-Globes plans and if they were going to do any "misbehaving" or "partying" that night, they revealed their crazy afterparty activity: "We're going to play Settlers of Catan roughly at 8 p.m.," Dax Shepard said. "That's our after-party." Kristen Bell added, "We have a strict 8 o'clock start for game night tonight." They also promised that they'd be sharing the fun on their social media, so the world should keep a look out.
Oh, you didn't believe them?
Well, BAM:
WHY ARE YOU GUYS SO COOL?
I've literally never been so envious of a board game in my entire life.
Maybe the reason we love Kristen Bell and Dax Shepard is because they are so seemingly normal. In an interview with Us Weekly, Shepard revealed that their marriage takes work, much like the (gasp) average couple. He said,
We don't believe in The One. We don't believe in the fairytale. We don't believe that you can meet someone and you have a perfectly matching personalities ... We are opposites and it has taken a tremendous amount of work and therapy for us to coexist.
A Hollywood couple giving an honest opinion on the difficulties of marriage?
Shepard continued, saying,
My only fear is that people see us and think, 'Oh, I just need to find my Kristen Bell.' That's not true. You'll find your Kristen Bell but guess what, now the work starts... [Relationships] are labor intensive. If you want them to last they are labor intensive.
Little secret, Dax: You're right. Everyone does want to find their Kristen Bell, only they want "their" Kristen Bell to actually be Kristen Bell.
I mean, how could we not?
Girl is a damn dream.
And Bell was equally open about how hard sharing a life together with someone can be, and that it won't always be rainbows and butterflies. In an interview with Entertainment Tonight, Bell discusses the ways they overcame the tough parts of their relationship. She said,
Our relationship wasn't perfect ... We had a couple years of fighting and of growing pains and hating each other, then loving each other and going to couples therapy and we worked it out … We earned each other.
Kristen and Dax, we forgive you for not being in attendance this year, but can you make us a promise? Can you please just show up at every awards show from now on and give the entire world hope? Because we love you, and watching you both walk the red carpet gives us all life.