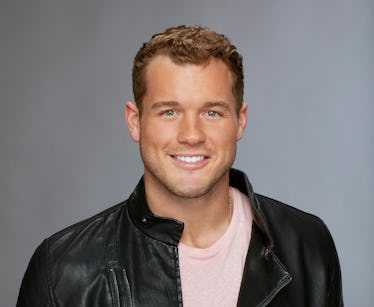 11 Tweets That Show Bachelor Nation Is Dying To See Colton In 'Paradise'
ABC/Craig Sjodin
I love The Bachelorette, but you know what really gets me going? Bachelor in Paradise, the franchise's booze-and-beach fest. It will be months before fans get to see what goes down on Paradise Season 5, but rumors are already swirling that this season's drama will be unlike any other. And fans have one question on their minds: Is Colton on Bachelor in Paradise? Colton has been creating major drama on Becca's season of The Bachelorette, but don't expect him to stick around long: Rumors are flying on Twitter that the former NFL player already taken his sh*t starting talents to Paradise, and it seems like he's up to his old tricks down in Mexico.
While we don't know what happened between Colton and Becca, one thing is very clear: Colton will definitely make an appearance on Bachelor in Paradise. On June 13, spoiler guru Reality Steve posted photos of Colton and Tia on a date in Mexico, and the two are looking very cozy. So cozy that you never would have guessed that the two only dated for a few weeks many months ago, as both told Becca on Week 3 of The Bachelorette. In one pic, Colton has his arms fully around Tia's waist, and in another picture, they're both smiling and dancing with fellow Bachelor in Paradise couple, Raven Gates and Adam Gottschalk.
This definitely isn't a good look for Colton, who finally got back on Becca's good side after two weeks of her questioning his motives. But honestly? I think it might be an even worse look for Tia, who went out of her way to tell Becca, both on The Bachelorette and via the press, that she would never do something to hurt their friendship and promised that she's totally, completely over Colton. The only thing worse than breaking Girl Code is pretending like you're being a good friend and then breaking it anyways.
Despite my anxiety about this whole Colton in Paradise situation, fans on Twitter seem to be super excited about Colton heading down to Mexico. Maybe it's those eyes? Yeah, probably those eyes.
Unlike her Twitter fans, Becca has stayed silent about the Bachelor in Paradise spoiler pics, but one of her Bachelor co-stars has already stepped in to drag Colton and Tia on her behalf. On Friday morning, Bekah M. tweeted the pic of Colton holding Tia's waist and wrote alongside it:
Tia+Colton: "yeah Becca, we're both 100% over each other! we're TOTALLY not planning on getting back together/probably engaged the minute we're in paradise (we're gonna get so many followers from this manufactured narrative lol)"
Ouch. Talk about a severe dragging. Anyone need some ice for that burn?
Becca may have forgiven Colton's awkward dating history, but now that we know he's in Paradise, it's clear that things didn't work out between him and Becca. On the one hand, there's now one fewer guy who could possibly be Becca's fiancé, so fans are one step closer to solving this mystery. But on the other hand, it's possible that Colton's departure from The Bachelorette has something to do with Tia, which would definitely leave Becca shattered. Watching Becca's heart get destroyed not once, but twice on national TV isn't exactly something Bachelor Nation wants.
While it seems like Season 5 of Paradise will be a Tia-Colton love fest, they won't be the only recent Bachelor alums appearing on this season. In May, host Chris Harrison teased that Season 5 will feature a "who's who of Bachelor favorites," including "names that will be coming from this season of The Bachelorette" and Arie's season of The Bachelor.
Grocery Store Joe, who was sent home on Week 1 of The Bachelorette, has been open about wanting to go to Paradise, so I'm assuming that the fan-favorite sweetheart will make an appearance. And don't count out model/villain Jordan, who literally has "I want to stay in this franchise as long as possible" written all over him. Plus, multiple women from Arie's season, including Caroline, Seinne, Kendall, and yes, even Bekah M., seem like Paradise sure-things, too.
Buckle up, Bachelor Nation. This season of Bachelor in Paradise will be something.