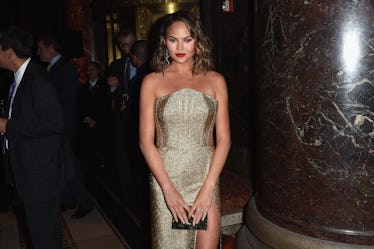 Chrissy Teigen Supporting John Legend In 'Jesus Christ Superstar Live' Is Legit Goals
Nicholas Hunt/Getty Images Entertainment/Getty Images
I don't know about y'all, but I live for these NBC Broadway to TV live shows. The much anticipated Jesus Christ Superstar live show has finally arrived, and with smooth as silk singer John Legend starring as Jesus himself, it's sure to be a night of incredible music and performing. So is Chrissy Teigen at Jesus Christ Superstar Live? It appears so, and she brought a special someone with her.
On April 1 at 7:32 p.m ET, right before the show, Teigen posted a video via Twitter giving us a glimpse inside Legend's dressing room. The room is filled with decorations including flowers, tasty treats, and and a "good luck" banner strung along the cabinets. Plus, a rosary jar candle featuring John Legend's face is also thrown in there. Iconic. In the video, Teigen and their daughter Luna join Legend on the couch possibly as a way to calm those nerves the Grammy winner could be feeling.
The video basically proves Teigen will be there to support her husband slay this performance, but I'm not really that surprised. Judging from her tweets leading up to the performance, Teigen was clearly hyped to see her man star as Jesus. Of course, everyone knows that her way of showing support is through hilarious, witty tweets. On Dec. 19, 2017 Legend announced that he would be starring in Jesus Christ Superstar Live to which Teigen shot back via Twitter "How are they gonna fit u in the manger."
Can John Legend and Chrissy Teigen please adopt me. Please.
Since Teigen is attending the show, and is a complete Twitter icon, I don't think I'm alone when I say that her little live-tweeting the show is going to be amazing. In fact, it looks like she's warming up as I type.
John Legend may be starring in the NBC produced live show, but Chrissy Teigen has a history of skipping out on celebrity studded affairs. Back on March 4, everyone's favorite model/celebrity chef/Twitter personality opted out of the Oscars to... wait for it... track down a taco truck.
Chrissy, will you ever stop being iconic?
Teigen clarified that she actually had no intention of attending the Oscars or any viewings or after parties. It wasn't that surprising, since she also chose not to attend the 2018 Golden Globes on Jan. 7 for, and I'm not kidding, tacos.
Chrissy Teigen and tacos. Name a more iconic duo. I'll wait.
John Legend will play Jesus for the big show, and even though the NBC live show is only a one night affair, it's still impressive that the Grammy winner will be taking part in the show at all. He's currently on a two and a half week tour in Asia, and is starring in the show between the tour. Even though this is sure to be a stressful experience, Legend told Variety that the significance of playing such a figure, as a person of color, made him want to take on this challenge.
He said,
Well, we've often seen Jesus look like he's probably from Oslo or something. The chances of Jesus being born and raised in the Middle East and looking like he's from Oslo are pretty slim. I think I probably look closer to him that a lot of people who have played him in the past.
Legend will star alongside an extremely impressive cast. Stars including Sara Barreilles as Mary Magdelene, Alice Cooper as King Herod, and Brandon Victor Dixon as Judas will also be joining the stage. I don't know about y'all, but I have no doubt that this reboot is going to be just as impressive as its predecessors Hairspray Live and Sound of Music Live.
Produced by Broadway maestro Andrew Lloyd Webber and Tim Rice, Jesus Christ Superstar is as rock opera musical that premiered in 1970. The story focuses on a psychological study of Judas, who struggles with dealing with Jesus's growing fame. The story is one of division and struggle, a theme all too familiar to today's political climate. Even the producers and Legend himself have noted the commonality. However, while speaking to Variety, Legend said that he hopes the show will bring people together instead of tear them apart.
He said,
I think it will hopefully be a good moment for us to come together and have something in common. I don't think it will heal all our divisions, but at least give a break from them. The show is about in some ways conflict, about a revolutionary, about someone who was trying to change the system, who ultimately gave his life to change the system. That's important now.
I vote that we just forget about politics for the moment and focus on a night of great music and performance. Plus, we can always count on some amazing tweets from Chrissy Teigen to cheer us up. Happy viewing everyone!