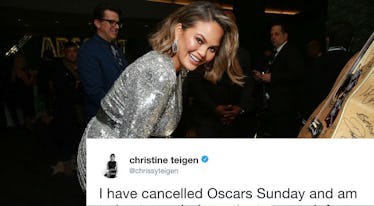 Chrissy Teigen's Reason For Skipping The Oscars Sounds Unreal & You'll Be Jealous
Robin Marchant/Getty Images
One of everyone's favorite celebrities to see at any awards show is Chrissy Teigen, but the supermodel won't be showing up at this Oscars this Sunday. The food-loving social media star stayed true to form by tweeting out the reason why Chrissy Teigen will not be at the Oscars, and it's all because of tacos. And honestly, I can't say I blame her for choosing to skip the big night.
A few hours before the 90th annual Academy Awards got started on Sunday night, Chrissy Teigen surprised fans by tweeting out that she is made other plans for the night instead of going to the biggest award show of the year. Clearly, Teigen has been on a Netflix kick over this weekend, and got hooked on chef David Chang's new food series Ugly Delicious. On Sunday morning, Teigen tweeted that she would be forgoing the Oscars this year in order to track down the taco truck that is featured in episode 2 of the new series. To make the search even more fun, Teigen shared her progress on Twitter, posting when she found the taco truck's name (Mariscos Jalisco) and social media handle. Luckily for Teigen, the taco truck is located in Los Angeles, so she doesn't have to go too far to chow down.
But although Chrissy Teigen opted for Mexican food over glitz and glamour, she was still looking out for her fellow celebs, who may have been in need of a last-minute gown. After sharing that she would be taco-hunting on Sunday night, Teigen offered up the dress that she was going to wear to her Oscars viewing parties to anyone else who may be around six months pregnant. Check out Chrissy Teigen's tweets below:
Although she may have initially made it sound like she was opting out of attending the Oscars ceremony, Chrissy Teigen clarified a couple hours later that she was actually never going to attend the Oscars ceremony. What she was really referring to were the star-studded Oscars viewing parties and after parties that she was invited to on Sunday night, which she confirmed she is no longer attending in order to snack on some tacos.
Chrissy Teigen also shared that she and her daughter Luna would be flying out of Los Angeles on Sunday night in order to meet up with John Legend in China, which is obviously another big reason why she probably did not want to go party-jumping. Legend is currently on a world tour, and his next concert is scheduled for Tuesday night in Shenzhen, China.
I mean, sure — I guess a flight to China would be a pretty good reason to skip out on some Hollywood parties, but I still choose to believe the main reason Chrissy Teigen is skipping out on the Oscars is for the tacos. I mean, look at how amazing these tacos from Mariscos Jalisco look! Ugh, now I'm craving tacos too!
Not to mention the fact that this is not even the first time that Chrissy Teigen has chosen tacos over awards shows. Just a couple months ago, Teigen shared that she was staying home from the 2018 Golden Globes for a taco night. I know that big Hollywood awards ceremonies sounds awesome, but I'm with Chrissy on this one: Munching on tacos at home kind of does sound a lot more favorable to sitting in uncomfortable clothes in an auditorium for like four hours.
Plus, Chrissy Teigen has no real reason to attend the Oscars this year. She did attend over the past few years, due to her husband, John Legend, being nominated both in 2017 for his role in La La Land, and in 2015 for his work on the Selma soundtrack. But Legend is not up for any awards this year, and obviously, he's skipping the ceremony for his tour in China. Bon appetite, Chrissy!