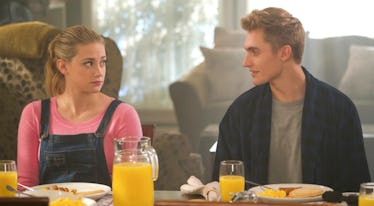 Betty's Brother Is Officially In Riverdale & He's Stirring Up Major Trouble
CW
It's the moment that Riverdale fans have been anticipating since the end of Season 1: Chic Cooper has officially made his appearance in Riverdale. Or, actually his real name is Charles Smith, apparently. After Betty Cooper discovered she has a long-lost brother towards the end of the first season, it has only been a matter of time before he finally found his way into the dark, mysterious world of Riverdale. Wednesday night's midseason premiere introduced us to Chic in a pretty unsettling way, and added a bit of fuel to the popular fan theory that Chic may be the Black Hood. So, what is Betty's newfound brother really up to? Let's go over what we know.
It's clear from the get-go that Chic's life has not been great since Alice Cooper dropped him off at a convent when he was a newborn. Betty and Alice find Chic living in a rundown motel, making money by... well... "fulfilling people's fantasies," as Chic puts it. And of course, it is not a safe line of work at all — after Chic asks his mom and sister to leave him alone, Betty returns to find him being beaten up and stabbed in the arm by a large man in the motel hallway. She is able to save Chic and convince him to stay in Polly's old bedroom, but having him stay in her house may actually turn out to be a very bad thing for Betty.
In the last scene of the episode, Chic creeps into Betty's bedroom while she's sleeping and stares at her in a really disturbing way. That creepy moment is paired with Jughead's narration pointing out that Betty might have let a monster in her house, and closely follows Archie telling the new FBI agent in town that he thinks the real Black Hood is still on the loose. All that comes together to form a pretty clear implication that Chic could indeed be the actual Black Hood, with Mr. Svenson's reveal in the last episode being a fake-out.
After all, we know that the Black Hood that kept calling Betty on the phone clearly had a close relationship with her, and often brought up how alike the two of them were. Sounds a lot like something an evil secret brother might say to his sister. But there are some wrenches in this theory too. For instance, the Black Hood knew about a Nancy Drew book that Betty loved as a child; since Chic was never around Betty growing up, how would he have known about that? The Black Hood also said that Betty would recognize his face if she saw it, but Betty had never seen Chic before meeting him at the motel in the latest episode.
I was definitely into the Chic-Black Hood theory before he actually popped up on the show, but that scene with him staring at sleeping Betty actually dissuaded me from thinking it could be him anymore. It just felt like with the voiceover, Archie's confession, and Chic's creepy bedroom eyes, the show was hitting us over the head with the idea that Chic might be the Black Hood way too much. If Riverdale is going to reveal a major twist like that, then this show is going to try to do it in the most unexpected way possible — they definitely wouldn't include a scene that basically screamed "Chic is the Black Hood!!!" But that's just my two cents; watch me be totally wrong in a couple episodes when Chic starts killing everyone.
New episodes of Riverdale air on Wednesdays at 8 p.m. on The CW.