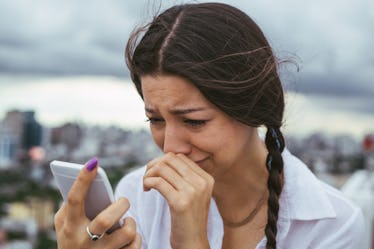 There Are Only Two Times It's Ever OK To Dump Somebody Over The Phone
Here's how I broke up with my high school boyfriend: I ignored his calls for about three weeks until he eventually texted me very bluntly, "Um, this isn't working, is it?" Relieved that he had done most of the work for me, I called him and ended it for real. So yeah, I know what it's like to break up with someone over the phone, but 26-year-old me would probably do things a bit more considerately than 16-year-old me did.
For one, there was no need to break up with this guy over the phone. Sure, we attended different schools, but we only lived about 30 minutes away from each other and we hung out at most of the same places. We had been dating for a few months and he was even my date to the prom, so no, he absolutely did not deserve this.
Sometimes, breaking up over the phone or via text is just a cop out. I admit it. I had no real reason for doing this other than the fact that I was a coward who hated confrontation. I still hate confrontation but now if I think about dumping someone over the phone when I could just as easily do it in person, I mostly think...
Honestly, it's selfish and rude and I regret ever having done it. Lori Salkin, dating coach and senior matchmaker at SawYouAtSinai.com, says there are only two times it's OK to break up with someone over the phone: