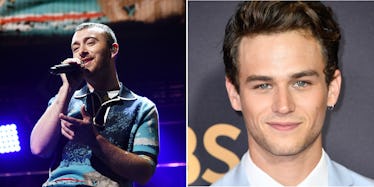 Sam Smith Walked The Grammys Red Carpet Without His BF & What Gives?
Frazer Harrison/Getty Images Entertainment/Getty Images // Theo Wargo/Getty Images Entertainment/Getty Images
Sam Smith can do no wrong in my eyes. Ever since the release of his newest album, The Thrill Of It All, which debuted in Nov. 2017, it's as if the heartbroken crooner has turned something of a corner. Yes, the songs on this album have lyrics that will seriously emotionally cripple you, but Smith himself seems to be in a totally different place relationship-wise, and I'm absolutely loving it. Why, you ask? Duh, because he and 13 Reasons Why actor Brandon Flynn are dating, and they are probably the most adorable pair this world has ever seen. So obviously, people are wondering, is Brandon Flynn at the Grammys with Sam Smith?
Sadly, we haven't seen Brandon Flynn's sweet, little face tonight — at least not on the red carpet. Sam Smith made his red carpet appearance alone, with no Flynn in sight. (Though, that's not to say he won't pop up during the ceremony later.) While The Thrill Of It All wasn't eligible for any Grammy nominations due to that pesky rule about the timeframe of eligibility, we still would have loved to have seen the happy couple in attendance together on the red carpet.
Back in Oct. 2017, Smith appeared on Ellen and announced that — sorry, lads — he was no longer single. He said,
It's weird bringing out an album and not being single, 'cause when I brought [my debut album] In the Lonely Hour, I was so lonely. But now I'm singing songs about another guy, and I'm quite happy, so it's quite weird.
That guy would reportedly be none other than Brandon Flynn, who was seen with Smith in New York City together holding hands and kissing (cuteness overload). So yeah, word got out about their relationship, despite the fact that both parties were trying to keep things on the down-low.
Flynn finally confirmed their relationship on Instagram in Dec. 2017, posting a selfie of him and his boo wearing matching unicorn neck pillows:
OK, first things first: This pic is the actual sweetest. But also, where do you buy one of those neck pillows? Asking for a friend.
It's nice to see that Smith has finally found love after what seems like a pretty solid amount of heartbreak. (Every song off his entire first album, In The Lonely Hour, will make you sob.) In an interview with Sarah Jessica Parker for V Magazine, Smith opened up about finally finding happiness in his relationship. He said,
On a personal level, I'm in a relationship right now and for the first time, I think I deserve to be happy. I'm actually asking myself if I'm going to be writing some happy love songs soon. Also, I'm really proud because, even with this whole dreaded second album thing the industry makes everyone concentrate on, I'm putting out a second album that couldn't be more me—and it couldn't be gayer. I'm so proud of that. I'm excited to be singing songs like "Him" in parts of the world that maybe aren't as open in terms of sexuality. To be that raw in front of people is daunting and scary, but the high is incredible.
Yes, Sam. This is everything.
He also talked about the juxtaposition between his two albums, and the different places he was in while writing each of them:
It's very weird. When I released In the Lonely Hour, I was still very much in love with the person I wrote the album about, so the songs were a real form of therapy. I was singing them as I was in pain. With this album, it's very strange, I really am past some of the dark things I'm singing about. I can get the message across more because, looking back, I really understand why I wrote these songs.
If these affirmative quotes about Smith's relationship doesn't completely woo you, let me leave you with Flynn's most recent Instagram post, where he calls Smith one of his "favorite things from 2017":
Let's give it up for these sweet baby angels. God bless.