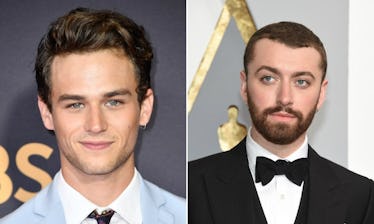 Sam Smith & His Boyfriend Are Finally Instagram Official & The Photo Is So Cute
FRAZER HARRISON & ETHAN MILLER/Getty Images
No matter how many rumors you might hear about a certain celebrity couple, no romance is considered official until the pair decides to bite the bullet and post a pic together on Instagram. Kourtney Kardashian and Younes Bendjima did it while dressed as Bonnie and Clyde back on Halloween, and ditto for Wells Adams and Sarah Hyland in their epic Stranger Things costumes. Now, just before the holidays, we have one more famous duo to add to the list: Sam Smith and Brandon Flynn are Instagram official, you guys, and the photo they chose to share is ridiculously cute!
Credit Flynn for being the one to finally take the reigns and make the pair's relationship public on social media. On Dec. 21, he posted a selfie on his Insta of him and the Grammy and Oscar-winning singer wearing matching unicorn hoodies with neck pillows attached. And while I have never seen one of these amazing contraptions before, I now know what I'm hoping to find under my Christmas tree this year.
Seriously, though, this picture is everything. Is there an award for best Celebrity Couple Reveal on Instagram because if not, there totally should be.
"Rare sighting in London," the 13 Reason Why actor perfectly captioned the shot, making us love both it and him about a billion times more.
Flynn also showcased Smith in his Instagram story by adding a sparkling heart emoji to this pic of his BF in a dope set of snowflake glasses during their date at The Bike Shed Motorcycle Club cafe in London.
Annnd, now I totally want a pair of those bad boys, too!
Since first being spotted out and about together back in early October, the couple has been keeping their relationship on the down-low on social media, even though the paps caught them kissing and holding hands while strolling around New York City that time on Oct. 3 when they went to see Dear Evan Hansen, followed by dinner and drinks.
There was this pic:
And this one:
And this one:
So sweet! And, as if their fans didn't already love them enough, they have really upped the ante with their unicorn pic, which their fans on Twitter can't stop talking about.
Me too, Emelie. Me too.
While Smith has yet to share any pics of the 24-year-old actor on his own Instagram, the "Stay With Me" crooner did confirm that he was "in a relationship" during an appearance on The Ellen DeGeneres Show back in October, though he never mentioned his boyfriend by name.
"I'm not [single], which is crazy," the 25-year-old — who had just released his second studio album The Thrill of It All — admitted. "It's weird bringing out an album and not being single. Because when I brought In the Lonely Hour, I was so lonely. But now I'm singing songs about another guy, but I'm quite happy so it's quite weird."
He means "good weird" not "weird weird," doesn't he? And he must be talking about Flynn here, right? We're gonna go ahead and say "yes," since the stars have been sweetly but sneakliy liking and commenting on each other's social media posts for awhile now.
Like waaaay back in September, when Smith left an "x" — which he often does when he likes something — in the comments of a photo Flynn posted supporting the LGBTQ community.
Meanwhile, some of Flynn's comments on Smith's posts have included: "You're so good boy" and "[Apple] of my eye." And on one he even commented, "It's so beautiful," to which Sam replied "you are so beautiful."
We're so glad this pair finally made their romance Insta-official. Here's to more posts filled with all the feels in 2018!