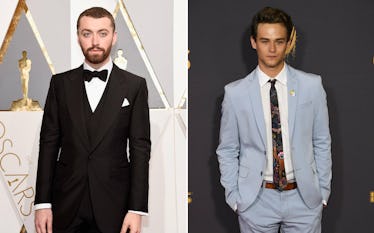 Sam Smith & Justin From '13 Reasons Why' Had The Cutest Date Night Ever – PHOTOS
Kevork Djansezian / Stringer & MARK RALSTON / Contributor
The world is loving music icon Sam Smith and heartthrob actor Brandon Flynn, and so am I. The two have only recently made their big debut as a couple to the world, bopping around New York City like two carefree lovebirds. Trust me, we are here for it. Although neither have confirmed their relationship, fans are still wondering when did Sam Smith and Brandon Flynn start dating? And, based on my impeccable (read: pretty average) internet sleuthing skills, it looks like not that long ago.
The two were first placed together this week when they were photographed holding hands and smooching in New York City's Greenwich Village. For most people (read: me), we think of Smith as an old-timey crooner. Ya know, someone who has lived a long, fascinating and complicated life, and probably whittled something out of wood once or twice. These adorable photos of Smith and Flynn prove that's – UH HUH – NOT TRUE. In fact, Smith is but a mere 25 years of age, placing him squarely in the middle of the millennial crowd and making me question everything I know to be true.
On Oct. 3, the twinkly-eyed pair went to catch the hit Broadway show Dear Evan Hansen, and enjoyed dinner and drinks earlier in the evening. A source told US Weekly, "They were low-key, but enjoyed a romantic evening."
Based on what social media tells me, this relationship is fairly new.
For his part, Sam Smith has been enjoying the release of his latest single "Too Good At Saying Goodbyes." In an interview he did with host Zane Lowe on Beats 1 only a month ago in early September 2017, Smith called himself "insanely single." He said,
I'm still very, very single. I think I'm even more single than I was when I released [my first album] In the Lonely Hour, so I'm insanely single.
Hm, interesting. Because you look insanely happy, Sam. This must mean the two might have only started seeing each other sometime late September.
Flynn has also not been one to talk about his romance, dating, or sex life until recently, when he shared a supportive message to the LGBTQ community on his Instagram.
In response to seeing a plane sky-write "vote not," Flynn shared an image of a rainbow equality flag and the caption,
Just saw the "vote no" message in the sky, looming over Sydney. Thank you for raising money and hiring on a plane to write your lack of support amongst the clouds. I hope your hate and lack of understanding fades, just like those words will. Too many of my friends have been kicked out of their homes, kept in the closet, beat up, killed, ridiculed by church and state, institutionalized... and you are scared that if we vote YES, you won't be able to show your hate for Us. F*ck that. We've been scared sh*tless our whole lives thanks to all the stigmas that surround Us, stigmas that were set in place by the same kind of people who flew that plane over Sydney. We've fought, we've come out bravely even in our fear, and you wrote a message in the sky because you're scared. Equality takes courage, it worries me that too many people in this world lack the balls to stand up for what is right. #f*ckhate
Smith reportedly commented on the photo with "x." (Kiss.)
Based on what we see now, it looks like the two are more than just friends.
When you consider their PDA and adorable date nights, I think it's fair for fans to assume there's more going on here. We are so excited to see what happens next with these two.
Check out the entire Gen Why series and other videos on Facebook and the Bustle app across Apple TV, Roku, and Amazon Fire TV.