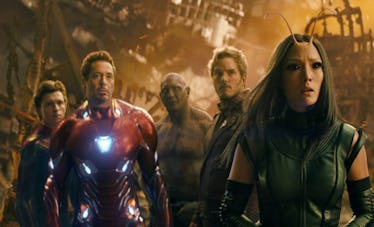 'Avengers; Infinity War' Is Coming To Netflix Next Month, So You Can Relive The Pain
Marvel
Netflix is giving its users something extra special this Christmas: the ability to stream the biggest movie of the year. The streaming service just announced that Avengers: Infinity War will be available on Netflix beginning on Dec. 25, because what better what to spend your Christmas than by watching all your favorite superheroes disintegrate into nothingness? Anyway, now everyone who has been asking is Avengers: Infinity War on Netflix finally has a release date to look forward to.
The Netflix release will come months after Avengers: Infinity War first premiered in movie theaters earlier this year on April 27. The movie is the third Avengers team-up movie in the Marvel Cinematic Universe, following 2012's The Avengers and 2015's Avengers: Age of Ultron. It introduced the iconic Marvel villain Thanos, an intergalactic warlord whom the previous Avengers movies have teased would eventually arrive on Earth for years. The highly anticipated film followed Thanos as he collected all six of the Infinity Stones, all-powerful gemstones which have popped up in various Marvel movies throughout the past decade. As the ever-growing Avengers team tries to stop Thanos from destroying half of all life in the universe with the Infinity Stones, the movie ends with a devastating cliffhanger that threatens to decimate the Marvel franchise. Thankfully, fans will find out how that will be resolved next year in the still untitled Avengers 4, which will serve as a direct sequel to Infinity War.
Avengers: Infinity War will be the latest Marvel movie to be added to Netflix's streaming library shortly after its big-screen premiere. Thanks to Netflix's deal with Disney, every Marvel movie has been made available to stream on the service. Most recently, Netflix added this year's other hit Marvel movie Black Panther to its library about two months ago.
But sadly, Infinity War will be one of the last Marvel movies that will stream on Netflix. Disney's deal with Netflix will be over in 2020, and since Disney is planning to release its own streaming service called Disney+ in late 2019, fans will have to jump from Netflix to Disney+ to stream all their favorite Marvel titles. The recently released Ant-Man and the Wasp will actually be the final Marvel title that Netflix will have the rights to stream. It was recently revealed that next year's Captain Marvel will be the first Marvel movie that will not go to Netflix after its theatrical release. So enjoy Avengers: Infinity War while you can, because it will be one of the last times that you will be able to watch Marvel movies on Netflix.
The ability to stream Infinity War will also be a great catch-up for fans before they go see Marvel's upcoming movies. First up is Captain Marvel, which comes out on March 8. Since that movie will be set in the past (specifically the 1990s), you don't need to have seen Infinity War first. But, you will definitely want to rewatch the movie before May 3, when Avengers 4 comes out. Since the new Avengers flick is a direct sequel to Infinity War, you are going to want to stream it on Netflix before going to the theater so you understand what's going on.
Look for Avengers: Infinity War to begin streaming on Netflix on Dec. 25.