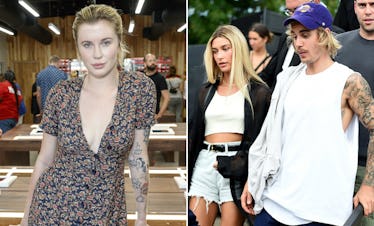 Ireland Baldwin Just Opened Up About Justin Bieber & Hailey's Engagement In A Major Way
Rich Polk & Theo Wargo/Getty Images Entertainment/Getty Images
If you thought there was going to be a dip in the hysteria surrounding Hailey Baldwin and Justin Bieber's engagement, think again. This fan-momentum is definitely going to carry on through the wedding, whenever that is, and then some. Fans are dying for any details about the famous couple's "I Dos" and engagement updates, and Hailey Baldwin's cousin Ireland is here to oblige. Ireland Baldwin's comments about Justin Bieber and Hailey's engagement confirm just how perfect they really are for one another, leaving fans everywhere sighing, "Awww!"
If you've been following this love story, you might have heard a rumor suggesting Hailey and Justin already tied the legal knot. The two were photographed entering a New York City courthouse and sources told People magazine the pair made it official inside. Even if they are already husband and wife on paper, reports previously claimed Hailey wants Ireland to be a bridesmaid in a wedding ceremony. The 22-year-old model is the daughter of Hailey's uncle, Alec Baldwin, and recently shared some exciting insight into her cousin's famous relationship. Elite Daily reached out previously to Hailey and Justin's teams for comment on their marital status but did not hear back by the time of publication.
Ireland spoke with Entertainment Tonight's Lauren Zima at the iHeart Radio Festival in Las Vegas, Nevada over the weekend of Sept. 23. During that conversation, Ireland really let the Baldwin/Bieber details fly. She admittedly opened with the disclaimer, "I have no idea what their situation is." But, for someone who has "no idea" what's going on, she sure had a lot to say. She said:
I think they're just taking things slow. They're just kissing all over the world. They're just kissing and loving and having fun, and I think people take little details and get too caught up in them, and they're looking too hard into it. Just let them kiss!
Ireland did say, if there is a wedding, she suspects it will be small and intimate. "I think [Hailey would] love just family being close and his family... small," she said.
"It was meant to be a long time ago," Ireland added. "It was just a long time coming, and we're all like, 'Alright, thank god, let's move forward.' They're so in love and they really do a lot of good for each other, and that's the most important thing for me, that he makes her so happy."
In Ireland's opinion, Justin and Hailey have really proven they're meant for each other through a lot of "trial and error."
"They just bring out the good in each other, they really do," she said. She continued,
I think they do a really good job of checking each other when one desperately needs to be checked and told, 'You're out of line.' I think they really, really do care about each other so much and care about what others and what their families think of them.
You can catch Ireland's entire interview at Entertainment Tonight (and peep those stoic Baldwin genes! HellOOoOo face symmetry)! In the meantime, fans will need to continue standing by to find out what's really going on with this couple.