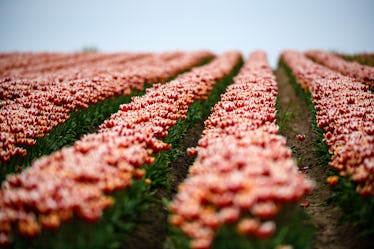 We've Officially Used Up The Earth's Renewable Resources For 2018 — Here's How You Can Help
Jens Schlueter/Getty Images News/Getty Images
Today, Aug. 1, is a pretty nondescript day. No holiday falls on it and it's not associated with an important event in history. Other than the fact that it's the first day of a new month, it's pretty normal. Right? As it turns out, today is 2018's Earth Overshoot Day, which actually makes it a very big deal. As put on Overshoot Day's website, it "marks the date when humanity's demand for ecological resources and services in a given year exceeds what Earth can regenerate in that year." In other words, we're using way more of the Earth's natural resources than can be replenished each year and we need to start doing something about it. At this rate, we'd need two earths by 2030 in order to have enough resources to supply our current demand. This is huge.
Love Beauty and Planet is a beauty brand that's dedicated to creating amazing products that won't harm the earth. As put on its website, "we started with one simple goal: whatever we do must be good for beauty and give a little love to the planet." So today, in honor of Earth Overshoot Day, Love Beauty and Planet released a #SmallActsOfLove video that highlights all of the small things you can do in your everyday lives to help be a bit greener and stop this excessive drainage of resources.
"In the past couple of weeks ago alone we're seeing large corporations, celebrity athletes, and major cities showcase their small acts of love as they commit to ditching straws," the brand says in a press release. "Love Beauty and Planet wants to continue the momentum by highlighting the small acts of love everyone can do every day — big or small."
Along with the efforts outlined in the video, which include using reusable water bottles and grocery bags, opting for bikes or public transportation, and ditching straws, there are so many ways to make how you go about beauty and fashion a lot greener, too. Read below for four tips on how you can do your part in pushing back next year's Earth Overshoot Day.
Shop Eco-Friendly Brands, It's As Simple As That
There are so any brands out there today that are making huge efforts to make their production methods, packaging, and products themselves way more eco-friendly than fast fashion retailers and high fashion brands. When it comes to beauty, look for brands like Love Beauty and Planet that do things like use recycled materials to make their bottles and containers, create products with fast-rinse technology to help save water, formulate their products with organic and all-natural ingredients, and strive for non-pollutive production methods. When it comes to fashion, look for labels that used a closed loop production process (if possible), use eco-friendly and vegetable dyes, use fabrics that require less water to produce, avoid synthetic materials, don't let scrap fabric go to waste, package their products in recycled materials, and are made at fair wage facilities.
Shop For Vintage Or Secondhand Clothing
This one's a no-brainer. Shopping secondhand means you're not directly supporting any fashion company and therefore encouraging and funding the production of new styles. Plus, you're snagging and wearing clothing that someone else has discarded and that could have otherwise been dumped in a landfill before too long. Vintage clothing also rules, as it allows for truly individualized style, and you can find rad thrifted pieces for a fraction of what a new item would cost you. It's a win-win-win!
Buy a DivaCup
OK, so this is definitely more wellness-focused, but using a DivaCup in place of tampons will result in so much less waste. As reported by The Daily Beast, "In 2010, Slate estimated that a woman averaging 20 tampons or pads per menstrual period burns through 250 to 300 pounds of products, applicators, and wrappers in a lifetime." Yikes! A DivaCup, which is reusable and can essentially be used for forever, is an easy, effective, and cost-worthy alternative.
Make Your Own Beauty Products
My sister makes almost all of her own beauty products using all-natural ingredients (check out her recipes at the link!). And while she does so mainly for the personal health benefits — everything she uses is non-toxic — she also does so because it's way better for the Earth. You can buy all needed ingredients in big batches, meaning you don't have to throw away a plastic bottle every time you run out of your shampoo or conditioner, and DIY products are way cheaper to make than anything you could find in a drugstore, no matter what crazy sale was going on.