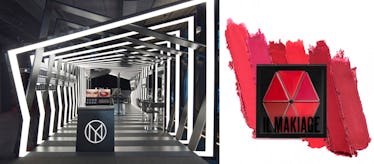 This New "High Maintenance" Makeup Brand Just Dropped 1,000 Products — With 50 Foundations
Il Makiage
Minimalism has been having a moment. This holds true for beauty — and while I'm all for the whole less-is-more aesthetic, there's a part of me that craves unapologetically over the top products from time to time. Luckily, Il Makiage makeup is a new line inspired by maximalism.
Il Makiage calls itself a "100 percent high maintenance brand," (and is darn proud of it, thank you very much). The company was founded by sister/brother duo, Oran and Shiran Holtzman, who launched the company just this month (June 2018). Despite its new kid on the block status, Il Makiage has already created a stir in the beauty world and gleaned 20 thousand Instagram followers. I'm willing to bet my entire lipstick collection that that number will rapidly increase as word gets out. After all, it's practically impossible not to love what the brand stands for — which, yes, is ostensibly being "high maintenance," but being so in a much more modern, #girlboss kind of way.
I loved everything Il Makiage stands for before I even discovered the brand. Just the other day, I was walking around Soho and I noticed a billboard that immediately resonated with me. It was an image of a woman eating a burger (veggie burger? vegetarian here) in a blatantly unapologetic manner. The text below the image read, "I'll tell you when I've had enough." Little did I know that the image was an ad for Il Makiage.
As someone who thinks its rude to tell someone what and how much to eat/live their lives, I was really into the message. But I digress. The billboard serves as an example of the kinds of sassy, quippy attitudes the brand abides by and promotes.
Take a peek at the brand's insta and you'll notice it's laden with similarly bold images. "I'm one high maintenance B. #MakeupForMaximalists" says another image, which portrays a woman drinking a martini, working, and looking amazing. Point being, Il Makiage makes me feel like I *can* have it all — all while looking totally on point (and perhaps unapologetically over the top).
In line with the brand's "more is more" ethos, Il Makiage launched one thousand products. All at once. Naturally, the products are housed in the most over the top building:
If you live in the NYC area, try to check it out this summer. To my disappointment, the store is only around for four-six months. Thereafter, the brand will open another location in NYC's Flatiron district plus additional, interactive popup locations in various areas of the country, including Miami and D.C. Eventually, the brand is slated to settle in permanent locations. While I wish the brand already had a permanent place where I could peruse and play with its products whenever the mood strikes, I do love the whole traveling beauty store concept. Especially when it looks like this:
Stunning, right?
Okay, so I've managed to ramble for 500 words without delving into any specific products. Prices range from $22-$119, but I'll preface by saying that the products do *not* disappoint.
Perhaps most promisingly, the brand offers 50(!) shades of foundation (for context, that's ten more shades than even Fenty or Flesh!) so you're practically guaranteed to find a perfect match. In terms of finish, I tried it and I'm super-impressed.
It covers like a medium/full coverage foundation, but somehow manages to feel absolutely weightless. Plus, it's matte without feeling cakey, which is always a plus in my book.
Another standout is the brand's individual pressed eyeshadows. These babies deposit some of the creamiest, most buttery, opaque pigments I've ever tried, making fallout a thing of the past.
I'd be remiss not to mention Il Makiage's product packing. Everything I tried (lip cream, foundation, eyeshadow) was housed in a weighty, sexy package, adorned with accents of of shiny metal and frosted glass. But the quality is more than package-deep. The product formulas — be it for a lip cream, lipstick, or eyeshadow — are as high quality as their packaging suggests. In fact, the brand took 4 years of research, development, and testing to create these products, which were released only once beauty pros gave them the stamp of approval in blind testing studies.
I haven't tried all 1,000 products yet (lol), but I'm kind of striving to do so. (I mean, just look at the multicolored lip palettes above and tell me you're not itching to swatch every single color!?)
NYC-dwellers can shop the entire collection in that aforementioned pop up (read: palace) over the next few months. If you can't make the trip, you can shop the entire collection online at ilmakiage.com. Long live maximalism!