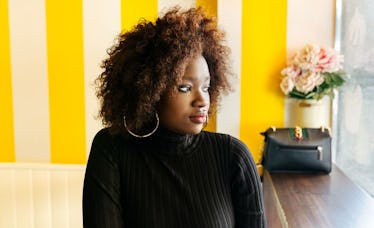 7 Resources That Are Here For You If You're Scared To Come Out
Coming out can be a multi-faceted process, one that brings about a rollercoaster of emotions including excitement, fear, elation, anxiety, and relief, among other feelings. It's totally normal to feel scared to come out. After all, doing so can entirely depend on your own unique circumstances. Fortunately, there is a slew of super helpful resources that can answer some of your burning questions, as well as offer invaluable guidance on coming out on your terms.
No two coming out stories are the same, which is a beautiful thing —and your life experiences, personality, age, race, location, religion, and so many other factors can impact how you feel about it and how you approach it. Perhaps you're concerned about your friends' or family members' reactions, or maybe you're worried that coming out will negatively impact your relationships. You may even be concerned that you'll be exposed to harassment or discrimination. But before you let those fears get the better of you, take a deep breath and remind yourself that the world is better because you're in it. You deserve to live an incredibly fulfilling life doing meaningful work, building healthy and happy relationships, and feeling both accepted and loved.
The reality is, coming out can be scary. But that's where these resources come in — not only do they pose an array of important considerations around coming out, but they might alleviate some of the common fears around this monumental decision. Whether you're trying to decide whether or not you're ready to come out, wondering how to personalize your coming out process, or looking for guidance on how to come out in different contexts, here are some websites that are sure to provide valuable insight and much-needed reassurance.