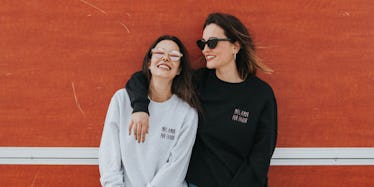 6 LGBTQIA+ People Share The Most Rewarding & Most Difficult Parts Of Coming Out
Coming out and sharing your sexuality can be liberating, but also terrifying. You're allowing other people to know the most intimate parts of yourself, which can be rewarding. But you're also opening up in a way that could cause an influx of rejection and pain. The best and hardest parts of coming out are different for each queer person.
For me, one of the best parts of coming out as pansexual was having someone I told early on be excited and overjoyed because she identified as bisexual. We excitedly shared our journeys and feelings about our queerness. One of the hardest parts was that I was dating a guy when I figured out my sexuality, and I wasn't sure how to come out to him.
But my experiences are mine, and there are tons of other queer stories out there. No two people share the exact same trials and triumphs after telling people how they truly identify, especially since coming out is more than just a one-time thing — it's an ongoing process, and not everyone you tell is going to have the exact same reaction. Elite Daily spoke to six LGBTQIA+ people to learn about the best and hardest parts of their experiences coming out.