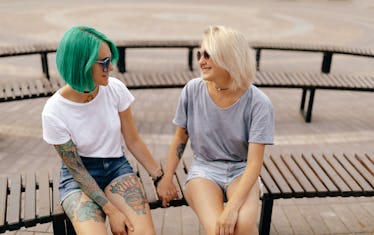 If You're Feeling Ready To Come Out In College, This Expert Advice Might Help
If you don't know anything about how to come out in college, you'd have a lot in common with my college-aged self. Back then, I knew I wanted to talk about my queerness, but I didn't have any idea how to go about it. As a result, I don't have a great story about coming out in college. I wish I did, but mine wasn't so smooth. Instead of sitting friends and loved ones down to share my truth, I went the most passive-aggressive route humanly possible: I would just drop increasingly awkward and obvious hints over and over until someone would ask in an exasperated tone if I was queer, at which point I would launch into my freshly learned screed about the sexuality spectrum. By the end of the conversation, no one was especially enlightened, but I counted it. So I guess what I am saying is, if you're in college and you feel like you're ready to come out of the closet, then you can do a better job than I did. Of course, there's no pressure to come out right now if you don't want to, or if you're not ready. But you deserve a better coming out story than mine — especially today! What, haven't you heard? Oct. 11 is National Coming Out Day!
Using this special day as a reason to finally take that leap of faith definitely helps, but coming out can still be really hard, especially if, like me, you have no game plan. So, I reached out to the experts for their advice on how to come out in college — and most importantly, how to do it safely. Here's how they suggest you kick off your own personal pride parade.