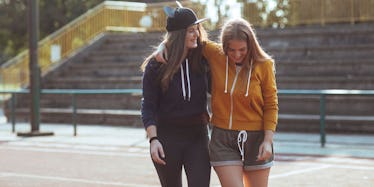 5 Reasons That College Is The Best Time Of Your Life To Be Single & Dating
There's no one-size-fits-all experience when it comes to dating in college. It's the perfect time in your life to explore, experiment, grow, and figure out exactly who you are — and that can happen regardless of whether you're single, dating casually, or in a serious relationship.
When I was in college, I had an on-and-off boyfriend throughout all four years, discovered my sexuality, and swiped through dating apps to discover what else was out there. I had dates during sorority formals, traveled with my then-partner during spring break, and even took a class called "Sex, Love, and Romance" at my local Jewish life center.
Dating during college may be the first time for many people in which you're experiencing dating at all — which was certainly was the case for me. College offers newfound freedom, a fresh start, and the opportunity to meet new people; in other words, it's the ideal time to make the most of dating. And since you'll likely be living with or right by your friends, you can immediately go to their dorm rooms after an exciting date or hookup to divulge the full scoop. So read on for more reasons why dating in college is truly the greatest time.