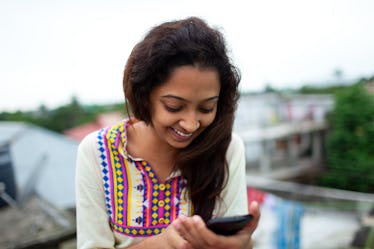 9 Things To Remember If You're Scared Of Texting Your Date
Dating can be tricky, particularly in the beginning. Everyone has different standards for what it means to be "dating" vs "hooking up" vs "in a relationship" vs "we made eye contact once, what is your name, please love me." Personally, I have a lot of trouble in the beginning of dating (as well as in the middle and end) figuring out how often to text them. Not everyone's a texter, and it's normal to be stressed about this, so if you're scared of texting the person you're dating, I have some super real things for you to keep in mind.
I've spent hours (probably days, possibly even centuries) of my life trying to pump myself up for texting someone I'm dating. Part of my problem is that texting is my favorite form of communication, and not everyone feels the same way (seriously, when my phone rings, my first thought is, "who hates me enough to do this to me?" — I am a text-only gal). I've dated people who hate texting, and trying to find a message to send them that they'll have an easy time responding to is beyond challenging. If this anxiety plagues you as well, you're absolutely not alone, and I'm here to help.
If you're nervous about texting the person you're dating, keep these nine things in mind.