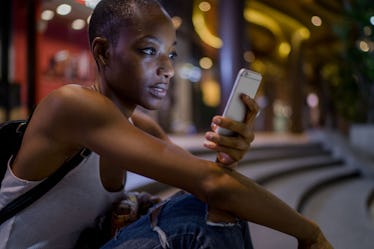 3 Zodiac Signs Who Get Most Nervous About Texting Their Crush
I am really good at writing texts to people I'm crushing on. I write long, funny texts; short, quippy ones; and fearless, flirty texts that lay out exactly how I'm feeling. Actually hitting send on those texts? Well, that's a different story. That's because when it's actually time to send them, my inner Virgo comes out and puts a stop to it. But then, Virgo is definitely one of the zodiac signs who get nervous about texting their crush, so it's not exactly a surprise that sending a first... or second... or third draft text is going to freak me out.
While it can be frustrating to be so shy about texting someone I'm attracted to, especially if they happen to be one of the signs like Scorpio or Gemini, who make it look so dang easy, at least I'm definitely not the only one on the texting struggle bus. There are a handful of signs for whom this particular challenge is going to sound painfully familiar — signs who stare at the blank screen of their phone with a case of sudden onset writer's block. If that's you, then chances are, you're one of these three zodiac signs. Read on.