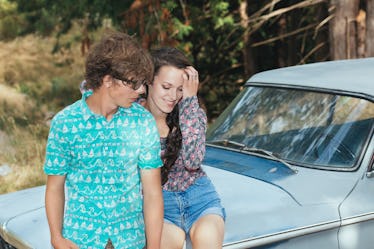 These 4 Zodiac Signs Are Most Likely To Be Shy Around Their Crush
Most people who know me would say that I seem pretty outgoing and confident. In social settings, I tend toward the center of the room where I can be the most involved in whatever interactions are taking place. However, there is one major exception to the rule: when I am crushing on someone. Then suddenly, I'm hugging the walls with a vengeance, observing from afar, and confusing my friends by acting like a weirdo. But it's not my fault, I'm a Virgo — one of the zodiac signs most likely to be shy around crushes, so in other words, it is the way of my people.
I've always been envious of Leos and Aries for their ability to be confident and honestly, pretty aggressive when it comes to letting the objects of their affection know what's up. I watch with equal parts envy and horror as friends with more confident signs chase crushes openly and fearlessly. But hey, we are who we are. And fortunately, even though I seem destined for eternal wallflower status, at least I am not alone. There are a few other signs in the zodiac for whom this is going to sound familiar AF. Here are the signs most likely to get awkward around their crush.