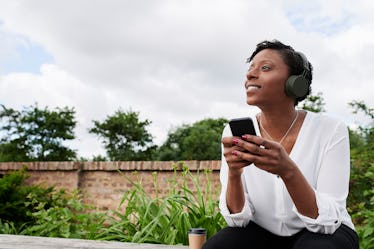 If You're Scared To Text Your Crush First, Repeat These 9 Mantras
Do you have a new crush? Summer, with its warm weather and beach hair, is the absolute best time for crushes, in my opinion. You may have met someone flying your kite (so whimsical) or drinking your eighth iced latte (so relatable), and maybe you even got their number. It can be nerve-racking to send a first text to a crush, but you're ready for it — you just need a bit of a pump-up if you're scared to text your crush first. Just like cheerleaders get the players ready to win, some mantras can get you ready to fight fight fight — I mean, text text text.
I struggled for years to text a crush first. I loved the idea of someone seeking me out to go on a date — that felt much more romantic. However, over time, I began to realize the people who sought me out got to pick me, but I didn't necessarily get to pick them. When you text someone first, you get to choose your crush and go for it. After all, Bumble as a dating app exists to give women the chance to send the first message (although, for men and non-binary folks reading this, sending the first message on other apps is still totally fine). Being empowered to send the first text feels amazing, and I want to help you get there.
Read on to find nine mantras to repeat to yourself to get you excited to send the first text.