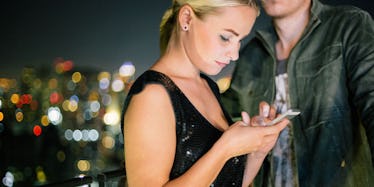 5 Signs Your Unhealthy Texting Habits Are Shutting Down Romance Before It Begins
When you've got a new person in your life that you're texting, it can be easy to get lost in your conversations, eagerly wait by your phone for that notification, and accidentally give them your whole life story. Whether it's a new match on Tinder or a set-up from a friend, you're excitement can turn into texting them maybe a bit too often, and sharing a little too much about your life. If you're single and feel bad at texting, there are definitely easy fixes to maybe coming off a little too strong right off the bat.
When I text people I like, I often have no issue sending multiple texts in a row, texting first, and seeming a little too into it. But then, if I lose interest, I can easily kind of... disappear. I know it's not the best habit and I'm working on it. Luckily, I talked to some dating experts about how to fix bad texting habits when you're single. Anything texting-wise you're doing that isn't yielding the results you want, there's a reason the other person may be backing off a little because of it. But no fear, there are solutions! Read on to see what the experts had to say.