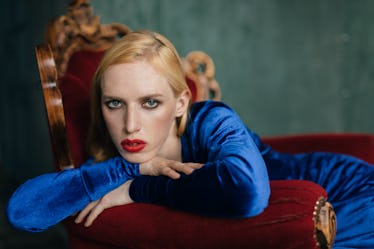 4 Signs Your Crush Thinks You Text Too Much, Even Though You're Just Being Yourself
Let me preface by saying that women and femmes being called any variation of "too much" or "a lot" always rubs me the wrong way. From the time we are born, society seems to expect refined behavior from us. My mother's literal advice to "just blend in" with my classmates still simmers in my mind. Today, I am proud to grace the world as I am: loud, powerful, and oftentimes, quick-witted. But when it comes to dating — it can be hard to know if you are, in fact, texting your crush too much, or if you are just, well, being yourself.
If you're an extrovert or just a big texter, it can be difficult to navigate your own personality from other people's communication styles — especially when you're trying to mack. It is never my intention to make my crush uncomfortable, but I also don't want to tailor myself for a lover's approval, or paint some version of myself that could be perceived as chill or breezy, because I'm not — in any universe.
Still, I do think it's important to be mindful of the social comfort levels of others. With texting becoming almost intrinsic to dating today, it's hard to turn on your read receipts to the non-verbal signs that someone isn't interested. In defense of loud girls everywhere (the working title for my first memoir), and in defense of big texters, I reached out to relationship and well-being coach Shula Melamed MA, MPH, and Demetrius Figueroa, dating writer and founder of A Mighty Love, about texting in flirting and silent signs your potential bae may not be interested.