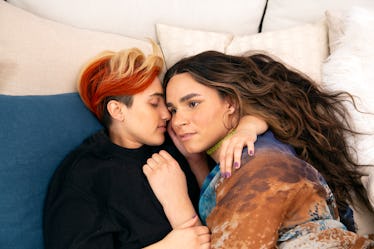 If You're Out To Some People But Not Others, Here's How To Stay Safe
A few months into my first year of college, a childhood friend came to visit me at school. I panicked the whole time about what to wear and what name to go by. Although I have always known that I am trans, college was the first time that I publicly used my chosen name and openly presented as more "masculine." Expressing your identity to the people around you is a lifelong process that looks different for everyone. And when you're out to some people but not others, it's natural to wonder how to prioritize your physical and emotional well-being.
"Different people have different responses and reactions to queerness," Chris Bright, director of public training for The Trevor Project tells Elite daily. "I might decide that [being "out"] just doesn't feel safe or comfortable in a particular community where I am. That doesn't mean I'm less authentic, or I'm not myself; it just means that I'm the one who calls the play, and I'm the one who makes it work."
Though queer people are a gift to humanity, we are still at high risk for violence, exclusion, and harassment. No matter where you're at in your "coming out" joinery, protecting yourself is important. And if you're "out" to some people, but not others, here are five ways to ensure your well-being.