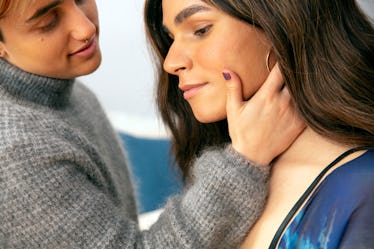 Here's What To Do If You're Not Out, But You're Dating Someone Who Is
In my ideal world, gender would be #canceled. Of course, in the real world, it's not always comfortable or safe for queer angels to openly embrace their identities. Maybe you're more private about your sexuality or gender identity than your partner. Or perhaps you're not out, but you're dating an out person. Whatever the case, doing what feels right for you doesn't mean your relationship is any less valid or special.
"Each individual has to figure out what is right for them, and each person needs to decide what's at stake and what feels the safest and most comfortable in their process," Chris Bright, director of public training for The Trevor Project, tells Elite Daily. "The 'coming-out process' is deeply personal and very much about you and not about other people."
Though you may love your partner more than anything, when it comes to coming out, you call the shots. If your family or friends are not queer-affirming, coming out may mean risking your housing or physical safety. You may not be able to share your relationship with the world around you, even if you'd like to shout it from the rooftops. Though every partnership is different, if you and your SO have different levels of "outness," here are five ways to feel safe and supported.