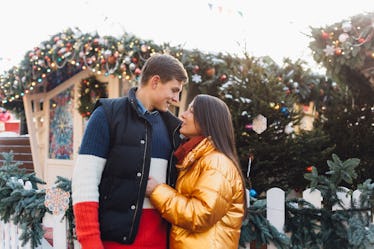 If You're Moving In Together In The Winter, Here's Everything You Need To Know
No matter how long you've been dating, taking the step to move in with your partner can feel like a pretty big deal. And if both of your leases are up at the end of the fall, moving in together in the winter may be the natural next step. From hot cocoa parties to endless Netflix nights, winter can be a dreamy time to get cozy with your partner, in the house that you both share. And when the weather outside makes you never want to leave your house — building a space you can feel good in can make all the difference when making it through the winter months.
Of course, when moving in the winter, especially when moving in with a boo, there are a few things you may want to check in about. From utilities prices rising to making space for coats and boots, moving in together in winter may take some planning. If you're already amped about finding the cutest sheets and picking out a dope shower curtain (#adultthings) adding "Talk about who's shoveling today" to the to-do list can make the transition go smoothly as possible.
Here are 11 things to know if you and your partner are moving in together during the winter.