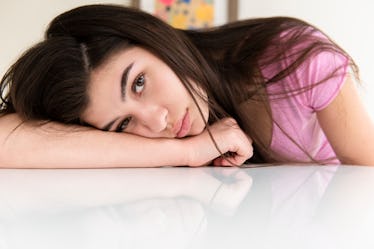 Daily Affirmations To Recite When You're In Unrequited Love, Because It's The Actual Worst
Is there anything more heartbreaking and yet more relatable than unrequited love? Truly, I'd be less shocked if someone hated ice cream than if they told me they'd never experienced being in unrequited love. From the boy I crushed on in second grade (why did he pull my hair? I spent hours brushing it) to the person who sat two seats ahead of me in my freshman year Anthropology class but never looked in my direction (possibly because I was too nervous to move closer), unrequited love is a part of who I am. Love Actually was right: love is all around, it's just not always reciprocated. If the pain of loving someone who doesn't love you back is affecting you right now, you're far from alone.
To ease the pangs of unrequited love, you can be kind to yourself. Daily affirmations will help you realize that you deserve more than to long for someone who wants something else. It's never your fault if someone isn't interested in you in a romantic or sexual capacity, but it can be hard to remember that, so tape these affirmations to your mirror (or put them on a note in your smartphone — it's 2019) to remind yourself every morning how special you are.
Read on to find eight positive affirmations that can help you work through unrequited love.