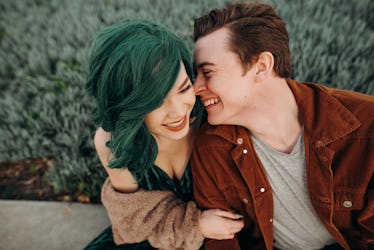 If You're Going To Start Dating Someone You Have History With, Remember These 4 Things
Dating is complicated enough when you're getting to know someone new. Now add in the fact that you've had some history the person you're dating, and it gets even more interesting. Whether you hooked up a few times back in college or went on a date years ago, your previous experiences together are bound to come into play as you enter this new phase of your relationship. So, if you start dating someone you have history with, there are certain things you'll want to keep in mind.
When you have a history with someone, there's a degree of understanding between you. That means that hopefully, you can relax a bit on those early dates and just be yourself. As an added bonus, there may be no need for awkward small talk because chances are, you already know a bit about each other. On top of that, you may find that there's a sense of trust with this person. However, if you had kind of a rocky past, you may also have some lingering feelings of awkwardness or regret that can leak into your new relationship.
Dating someone you have history with definitely has its pros and cons. But as long as you're aware of all the potential perks and pitfalls, you can embark on this new chapter together with confidence. Here are some things to keep in mind, depending on what kind of history you have together.