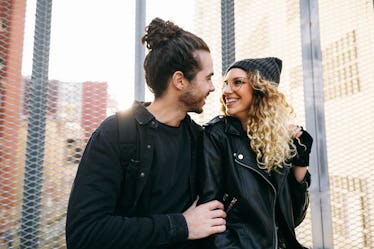 5 Intentions To Set If You're Dating With A Specific Goal In Mind
There are many areas of your life in which it can be helpful to set goals — among them, in regards to fitness, your career, and finances. But what about dating? You might make it a point to define your aspirations in terms of working toward a promotion, shaving a few minutes off your 5K run time, or saving up to buy a car, but then approach your personal life completely haphazardly. Dating with a specific goal in mind is a phenomenal approach because it allows you to be more deliberate about who you open up to, when, where, and how. Knowing exactly what you want makes dating easier, too. You won't second guess your decisions as much, because you'll be acutely aware of who meets your standards.
If you've specified a goal, you'll likely need to adjust how you go about dating accordingly. That means setting certain intentions. Think of it this way: When you want to save a certain amount of money, you need to define strategies, like putting a portion of your paycheck into a savings account, or cutting back on your monthly spending on clothing, to achieve that goal. When you want to land a pay raise at work, you must identify particular steps you can take toward justifying that, like getting more engaged during meetings, or pitching new ideas to your manager. So, why not deal with dating the same way?
Whether you're searching for your soulmate or simply a casual fling with satisfying sex, here are some intentions to set for success.