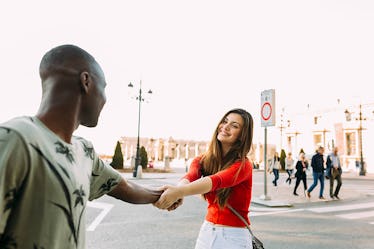 If You're Dating To Find Your Soulmate, Keep These 7 Things In Mind
The term "soulmate" is controversial. Finding the one person in the entire world whose soul was meant to be matched with yours is hard and unrealistic, at best, and totally impossible for cynics. But there's something comforting about knowing that there is someone (or several someones) out there for you. Adopting the mentality that your soulmate isn't necessarily one person, but could be anyone, really, is good to keep in mind when you're dating to find your soulmate. In fact, there are several ways to date intentionally, whether that intention is to hook up, date casually, or tie the knot.
Finding someone you can see yourself with in the long run might not happen overnight. Additionally, you might not know it right away. Dating is a process for a reason. "If your belief is that soulmates are 'known' at first sight, you may miss your soulmate as sometimes soulmates are discovered over time," Dr. Joshua Klapow, clinical psychologist and host of The Kurre and Klapow Show, previously told Elite Daily.
So, before you dive into these expert suggestions about dating to find the real deal, know that it might not be a short and simple process, but it will be worth it in the end.