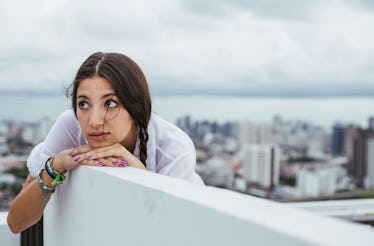 7 Women Share Their Anxieties About Dating & It Hits Close To Home
My thoughts on dating in today's world, in short: It's pretty brutal out there, TBH. Between the f*ckboys, the ghosters, and the breadcrumbers, you never know when you might be let down. Just days ago, you were fantasizing about spending a weekend with your new potential boo at your parents' lake house this summer, and now you're scratching your head over whether you'll ever see them again. Basically, it feels like a constant guessing game — so if you're anxious about dating, you're not alone.
Not to mention, while our digital devices have made it easier than ever to meet people with some mere swiping, they've also made it easier to reject someone without actually giving them the respect of being honest about your disinterest. If you've been wounded in the past, there's always the fear that you'll emotionally invest in someone only to be hurt or let down by their behavior.
The fact is, dating brings us so much anxiety because we care about it. And that's a good thing. If we weren't worried about the results, that would obviously mean we don't place much value on finding what we want — whether that's "the one" or "the one for right now." Hopefully, it's a tad reassuring to know that we're in this together: While our dating fears may differ, we all have them. Here's what some women had to say about their current dating anxieties. Trust me when I say they're relatable AF.