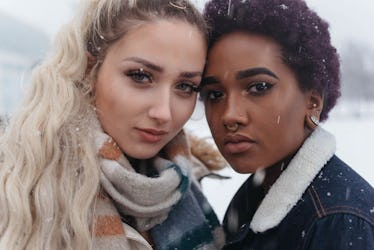 If Your Relationship Is End Game, You'll Notice These 5 Signs
Although the release of Marvel's much anticipated feature film Endgame marks the end of an era of the Marvel universe, if your relationship is end game — it is the opposite of over. If you and bae are in it to win it, so to speak, then your relationship likely takes on a few specific traits that are usually present in relationships where longevity is probable.
"There are no guarantees, but there are clearly ways in which couples interact that can predict the likelihood that the relationship is going to last," says Dr. Joshua Klapow, PhD, clinical psychologist and host of The Kurre and Klapow Show. "Even the best relationship can have difficult times. Every relationship has serious problems, concerns and even crises. Communication is the key to keeping a relationship healthy."
Dr. Klapow stresses that there are a few key ingredients in a relationship that show potential for it being for the long haul. Keep in mind that life happens, things change, and there's no perfect science for which couple makes it. There are, however, some innate values that you can foster in your partnership that make it more likely that you'll have a lasting connection.
If you think you and your sweetheart might be an end game pair, you probably exhibit any number of the followings signs.