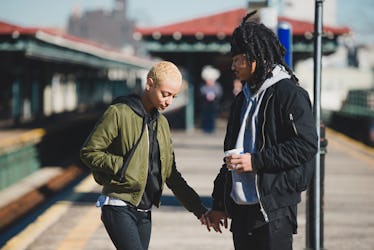 If Your Relationship Is Going Nowhere, You'll Notice These 4 Signs
You've been seeing a cutie for a while now and you're pretty into them. You go on cute dates, have really great sex, and enjoy spending time together. But beneath the fun and frisky stuff, you're starting to realize that you and your boo have never really brought up the future. And no matter how much time you spend together, it feels like you're not really getting any more serious. No matter how long you've been seeing someone, if you're not seeing any growth, it's natural to wonder if your relationship is going nowhere.
If you're starting to worry that your relationship is in a standstill — you don't need to panic. "Relationships that are not in a growing phase tend to have different looks — in one phase of a relationship that is not in a growing phase, the couple may have become somewhat stagnant," Dr. Gary Brown, a prominent couples therapist in Los Angeles tells Elite Daily. "Having said that, it is possible that any given couple may be in a phase where they may have temporarily hit a plateau that is both comfortable and also fulfilling."
Dr. Brown shares four signs you may notice if your relationship isn't really going anywhere.