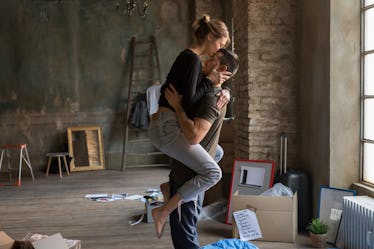 5 Ways To Deal With A Messy Live-In Partner That Won't Cause Too Much Drama
Look, I think many of us can agree that cleaning and organizing can be a total drag — hence, why so many of us will go as long as we can without doing either. But of course, many people aren't about that life, and that's definitely something that deserves some consideration. But knowing the best ways to deal with a messy partner can definitely be a bit tricky. After all, relationships involve give-and-take in pretty much every other area, and living conditions are no different.
Now I know all of the peeps out there with borderline compulsive cleaning habits think that we less organized folks are simply being lazy AF, but I promise you this isn't always the case.
Truth be told, I think the main difference between those who fall into either the "clean" or "messy" category is the ability to manage your time. Sometimes cleaning up a mess right after it's made just doesn't jive with the fact that I have an appointment in 30 minutes and it's going to take me 35 minutes to get there. The result? That pasta sauce that splattered everywhere and the sink full of dishes is just going to have to stay put until I get home... at midnight...at which point I'm way too tired, so hopefully they'll get done in the morning... after the gym... maybe? See how that happens? But take it from me, the secret to living in peace with someone who's not on the same page when it comes to cleanliness is totally do-able, but will certainly involve some compromise.