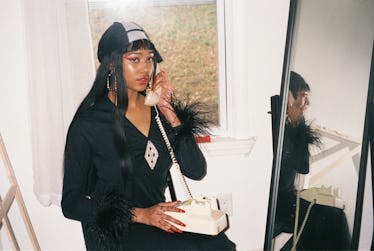 If Your Partner Hates Valentine's Day, But You Love It, Here's How To Talk About It
Whether you like cats and your boo like dogs, or you share food and bae guards their plate like a rabid hyena — there may be some disagreements in your otherwise rock-solid relationship. No matter how in love you are, it's totally common (and healthy) for couples to have their own opinions and preferences. Yet, if you wait all year for Feb. 14 to roll around and your partner hates Valentine's Day — like really freakin hates Valentine's Day — you may be confused as to what to do with all your red and pink decor, let alone all the heart candy you just impulse bought from CVS.
"You and your partner do not need to see holidays the same way but it is important to hear your partner's perspective," Nicole Richardson, licensed marriage and family therapist, tells Elite Daily. "A little give and take on the part of both can go a long way."
You and bae don't have to agree all the time to make each other feel heard or respected. When it comes to celebrating Valentine's, if you're Feb. 14 festive, and your boo can't seem to get far enough away from V-Day, there are plenty of ways to meet in the middle.