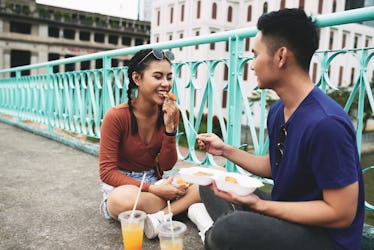 14 Affordable But Adorable Ways To Celebrate Valentine's Day, Because You Can't Put A Price On Love
Shutterstock
If the winter holidays drained both your energy levels and your checking account, gearing up for Valentine's Day can seem stressful. Yet, with a little preplanning, finding some affordable ways to celebrate Valentine's Day can be the best method to totally rock Feb. 14. While movies or TV shows may depict ritzy dinners in expensive places or floral arrangements that look like the Jumanji jungle has taken over the office, Valentine's Day is really about love.
Keeping your V-Day plans on a budget doesn't mean being stingy on thought, care, or sexiness. Affordable dates can be sentimental, gooey, and super fun. Whether you're planning an adorable movie night with matching pajamas, amazing snacks, and a blanket fort, or making each other homemade presents, (like Monica and Chandler), there are plenty of cute ways to be be money mindful when you celebrate Feb. 14. Telling your partner how you feel doesn't need to cost a fortune, and sharing a special Valentine's Day with them can be really cute (and yes, still really cheap).
If you and your boo are looking for some affordable and adorable ways to celebrate Valentine's Day, look no further. Here are 14 ways to celebrate Cupid's birthday on a budget.